Theo Bronkhorst, Bushman Safaris Founder, the Other Man Behind Cecil the Lion Hunt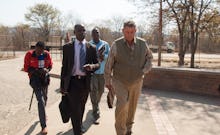 Walter Palmer, the American dentist who shot and killed famed Zimbabwean lion Cecil, has become the primary target of the Internet's fury, but he was hardly the only person behind the hunt heard around the world. 
Theo Bronkhorst, a professional hunter and founder of Zimbabwe-based Bushman Safaris, organized the hunt that led to Cecil being lured out of Zimbabwe's Hwange National Park, shot with a bow and arrow, pursued for 40 hours and ultimately skinned and beheaded. 
The fallout from that early July hunt has been swift for Bronkhorst. Local officials brought poaching charges against the professional hunter, who could face up to 15 years in prison if found guilty, according to the BBC.
Bronkhorst appeared in court Wednesday along with local landowner and private game park operator Honest Ndlovu, who also faced charges for allowing Cecil to be killed on his property. Bronkhorst has denied doing anything illegal.
"It was a magnificent, mature lion. We did not know it was well-known lion," he told the Telegraph. "I had a licence for my client to shoot a lion with a bow and arrow in the area where it was shot."
However, Park officials said Bronkhorst "had no permit or quota to justify the offtake of the lion," which made him "liable for the illegal hunt," according to the Telegraph.
"Theo Bronkhorst, a professional hunter with Bushman Safaris, is facing criminal charges for allegedly killing a collared lion on Antoinette farm in Gwayi Conservancy, Hwange district on 1 July 2015," Zimbabwe National Parks said in a statement Tuesday, according to the Telegraph. "All persons implicated in this case are due to appear in court facing poaching charges." 
Bronkhurst founded Bushman Safaris in 1992, according to the company's Facebook page. The company described itself on social media as a "family-run business with years of experience, offering top quality hunts with maximum results!" Bushman Safaris boasts specializing in "leopards with dogs and other big game!"
Palmer, a dentist based in Bloomington, Minnesota, reportedly paid over $50,000 to hunt a Zimbabwean lion. 
The American hunter has faced intense public scrutiny since news of the safari broke earlier this week and was forced to close his office because of intense protest and backlash from his clients.