Ray Tensing Trial: Latest News and Updates on Officer Who Killed Samuel Dubose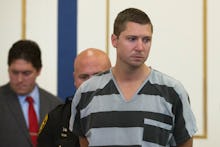 Former University of Cincinnati police officer Ray Tensing pleaded not guilty to charges of murder and voluntary manslaughter Thursday afternoon during his first court appearance for the shooting death of Samuel Dubose, a 43-year-old unarmed black man.
A grand jury indicted Tensing on murder and voluntary manslaughter charges Wednesday afternoon when footage from the officer's body camera was provided to the media. Tensing shot in the head and killed Dubose after he failed to provide a license and refused to let the officer open his car door and unbuckle his seat belt for him. 
Common Pleas Judge Megan Shanahan set Tensing's bond at $1 million and rejected the idea that he is a flight risk. 
Tensing is scheduled to appear in court for Aug. 9. The former officer has hired Cincinnati defense attorney William Mathews, a former employee of the Hamilton County Prosecutor's Office. Mathews worked as defense attorney for John Strutz, who was notoriously convicted of murdering his wife and dismembering her body.
This is a developing story. More updates to come.
Correction: July 31, 2015