Dr. Dre New Album 2015: News, Artists and Release Date Updates for Next Project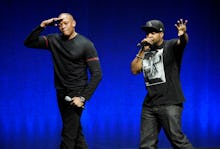 Just days after Ice Cube announced on Philly's Power 99 radio Dr. Dre will be releasing his new album Saturday, a source confirmed to Rolling Stone the rapper's newest album will be dropping very soon to coincide with the new film Straight Outta Compton — but not as soon as we thought. 
In an interview with Philly's Power 99 radio, rapper Ice Cube said Dre's new album was inspired by his new film Straight Outta Compton and would be available 13 days before the August 14 theatrical release of the film.
It's been 16 years since Dre released his last studio album, 2001, though he has since put out some hits alongside fellow rappers, including "Kush" in 2010 with Akon and Snoop Dogg. Dre was also nominated for a Grammy in 2011 for "I Need a Doctor" featuring Eminem and Skylar Grey.
Dr. Dre has kept the highly anticipated release under tight wraps, and it's still unclear whether the rapper's newest tracks will be featured in Straight Outta Compton. However, one thing is certain: The project definitely isn't called Detox.