Mic Is Sitting Down With President Obama to Talk About Iran — And We Want Your Questions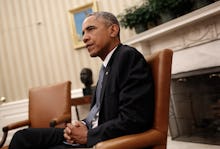 Update, Aug. 21, 2015: Thank you for all your submissions! You can find our interview with the president here.
Next week, Mic will sit down with President Barack Obama for an extensive interview about the Iran nuclear deal. In addition to questions from Mic co-founder and Editor-in-Chief Jake Horowitz, we'll be featuring video questions from people around the world. To record your video questions, follow these instructions and send it our way!
1.  Make sure you're recording horizontally:
2. Get close to the camera.
3. Keep it short! There's a 20-second limit.
Then, to submit your question, fill out the form below. If you can't fill out the form, send us an email with your video at POTUS@mic.com and include the following information: name, age and location. Remember, videos are limited to 20 seconds.