"Wanna Know" Lyrics: Meek Mill Fires Back at Drake With Latest Diss Song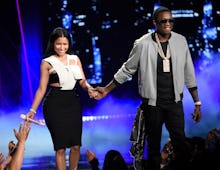 Meek Mill fired back at Drake Thursday night with a new track titled "Wanna Know," after being handed not one, but two separate diss tracks from the Canadian rapper.
Source: Soundcloud
The Philadelphia-based rapper dropped his latest rap on Soundcloud and continued what's being considered the biggest rap/Twitter battle of the year. Meek Mill, who claims Drake employs ghostwriters like Quentin Miller to churn out hit after hit, uses a portion of Drake's "Know Yourself" in his newest track, but something is different: The portion of the song Meek Mill uses is actually being rapped by Quentin Miller, not Drake. 
The heavy-handed insult from Meek Mill (lyrics here) claims that Drake has been a huge commercial success thanks to ripping off other rappers in the music industry.
"You fucking dork, you changed the style because you studied us / Coming with the same flow, switching up your lingo / We just want a refund, this ain't what we paid for / Every time that we come we get what we came for, spitting another n*ggas shit, but you claim you king though?"
The Soundcloud link, uploaded Thursday night by Meek Mill's Dreamchaser Records, features a Photoshopped image of Drake donning long braids alongside the Owl used by his OVO squad.
Although the track seems to hit Drake where it hurts, he doesn't seem too upset by the rap, posting a picture of him laughing hysterically on Instagram shortly after Meek Mill dropped his newest diss:
Meek Mill's newest track is the latest in a growing feud among the fellow rappers, primarily being brought to light on social media. Drake released a diss track titled "Charged Up" on his Beats 1 radio show in response to Meek Mill's accusations of Drake hiring ghostwriters for his latest album, If You're Reading This It's Too Late.
Then Drake fired off shot after shot at Meek Mill, directly calling the rapper out for being less successful than girlfriend Nicki Minaj with yet another diss track just days later in "Back to Back": "I'm not the type of nigga that'll type to niggas / And shout-out to all my boss bitches wife-in niggas / Make sure you hit him with the prenup."
Reactions to Meek Mill's latest diss on social media have been somewhat mixed, with the large majority of people claiming that the new track pales in comparison to Drake's "Back to Back."