HBO Insists Jon Snow Is Dead; 'Game of Thrones' Fans Laugh at HBO's Lies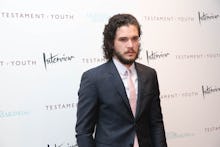 Jon Snow is dead, HBO said Thursday at a Television Critics Association press tour stop. Game of Thrones fans' response: Pssh, like that matters.
It's the latest development in a story that has made the Internet a dog with a bone. When asked directly about the Game of Thrones character's fate after his apparent death last season, the premium cable network's programming president Michael Lombardo said, simply, "He be dead."
"Dead is dead is dead is dead," he said. But what happens when dead isn't dead isn't dead isn't dead?
As Emilia Clarke suggested, the question isn't really whether he's dead or not. He's pretty definitely deceased. But there are characters in Westeros who are able to resurrect the fallen, like Melisandre. Lombardo's response is a very specific answer to a very specific question — just not the right question.
Yet his insistence won't change the fact that Snow's actor, Kit Harington, hasn't cut his hair, despite Harington's claims in the past that he would shave his long mane the second he was done playing the bastard. Additionally, Harington has been traveling to Belfast, Ireland, where the series is shot, quite a bit recently.
So why the careful wording to Lombardo's answers and the caginess to talk about Harington's return to the show? As of the end of Game of Thrones' fifth season, the series has exhausted all the material in George R.R. Martin's A Song of Ice and Fire books. Martin himself has said Snow may appear again in the coming books. If Snow is indeed coming back, it's likely a double-spoiler, for both series and book.
Therefore, HBO has to do its best to keep the mystery alive. After all, as was announced at yesterday's panel, Game of Thrones will run for at least eight seasons. That's at least three more years of hints, innuendo and intrigue about topics far greater than whether Snow is dead or alive. It may be torturous in the moment, but it's better in the long run.
Being in the dark is more true to the spirit of Jon Snow anyway. After all, at the end of the day, we know nothing.