Here Is Jon Stewart's Guest List for Final Week of 'The Daily Show'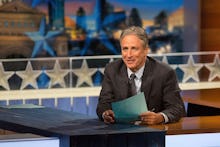 Jon Stewart has revealed the guest list for his final week as commander in chief of The Daily Show, though the details of Stewart's final episode remain tightly sealed. 
Comedians Amy Schumer, Denis Leary and Louis C.K. are slated to join the show next week before Stewart's last episode on Aug. 6, when the 16-year host is expected to pass the buck to South African comedian Trevor Noah. Stewart announced the lineup at the end of his Thursday show. 
Stewart won't have to work hard for some laughs with his upcoming guests. The Daily Show host recently commented that Leary and C.K. were among his favorite guests to have on the show because their dialogues were more like conversations between old chums than proper interviews. 
"My favorite guests are my friends," Stewart revealed during a recent question-and-answer session with fans via Twitter, according to CNN Money. "[Denis] Leary, Louis C.K., Colin Quinn. I get to not work, fuck around with them for five minutes." Stewart also recently had pizza with Schumer. 
During Thursday's show, Stewart reminded viewers that his final week was fast approaching. "Remember, next week is our last week," Stewart told the audience. "We're going to have a ball, and I can't wait to show my appreciation at all the support and enthusiasm that you guys have given the show all these years."
President Barack Obama stopped by The Daily Show earlier this month to say goodbye to the late night host. 
The specifics of Stewart's Aug. 6 send-off have been shrouded in mystery. Many have suspected an appearance from fellow funnyman Stephen Colbert, but that hasn't been confirmed. The final episode is scheduled to run 50 minutes instead of the usual half-hour to allow more time for goodbyes, according to Time. 
The show's producers have dropped a few hints about what to expect from Stewart's final episode, though. "It's definitely not going to be a current events-based show. We're the news that day," Daily Show executive producer Jen Flanz told Entertainment Weekly this week.
There was some talk of presidential hopeful Donald Trump stopping by for the final episode, but those rumors were quickly dashed. "Him being invited to the last show is factually inaccurate," Flanz told EW.