Why the Equality Act Won't Solve the LGBT Community's Race Problem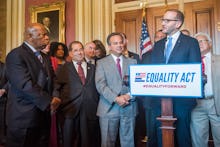 Kevin Wolf/AP
Over the past few weeks, reporters across the country have been asking "What's next after marriage equality?" Many LGBTQ organizations are now focusing on the need for federal nondiscrimination protections as their "post-marriage" campaign. The call for full federal equality is one that our organization, GetEQUAL, began five years ago, and that mainstream LGBTQ leaders are finally echoing now. While we're clearly glad that this vital policy concern is finally being prioritized by the mainstream LGBTQ community, we're also deeply concerned that the call for "what's next" is actually ignoring the very real question of "what's now."
What's "now" is that the LGBTQ movement has a race problem. This isn't new, and has been clear for decades, but has been made clearer in the past few weeks — especially when considering the response from LGBTQ leaders to the action that Jennicet Gutierrez took at the White House Pride Reception in June, and from white progressives (including some white LGBTQ folks) to the action that #BlackLivesMatter activists took at Netroots Nation on July 18. 
We can't possibly talk about what's "next" for the LGBTQ movement before tackling this "what's now" question head-on. We must have some real, honest conversations about who we, as a movement, are centering and who we are erasing in the name of assimilation and respectability. We must talk about the very real and dangerous results of centering white gay male experiences and needs as "the LGBTQ agenda."
Last week, members of Congress and some LGBTQ organizational leaders announced the introduction of the Equality Act, a piece of federal legislation that would extend nondiscrimination protections to LGBTQ people in areas such as employment, housing, federally-funded programs and credit, among others.
While this bill goes considerably further than other legislation has, and is a marker of the power that grassroots activists have created over the past few years to demand a bigger vision for the movement, the bill itself and the process by which it was introduced continues to ignore and erase the needs and experiences of LGBTQ people of color. To be sure, many LGBTQ individuals would benefit from federal employment and housing protections, but it ignores the very real issues of criminalization, policing, detention and deportation that have proven deadly for people of color, whether LGBTQ or not.
Instead of investing in the powerful local grassroots organizing led by queer and trans youth of color to respond to immediate needs for combating state violence and youth homelessness, power brokers in the LGBTQ movement are shifting all the resources that went into winning marriage equality into amending the Civil Rights Act. And while the Civil Rights Act was certainly a landmark piece of legislation with 60 years of case law to help clarify how civil rights should be protected, the limitations of that legislation are bearing out as we hear hour by hour about discrimination, hatred and violence against many in our community that cannot be addressed by simply expanding existing protections.
Those who experience the deepest impacts of discrimination, homophobia, racism and transphobia must lead the conversation about what real change looks like. We have seen the limitations of a moderate, mainstream LGBTQ movement that is led by white, cisgender people. Trans women of color are being murdered, undocumented LGBTQ folks are at high risk for abuse while in detention, homeless queer and trans youth of color are criminalized simply for being who they are and folks in small towns and rural areas around the country are living under the threat of hatred and violence disguised as religious liberty. Despite claims to the contrary, we're not winning.
At the recent Movement for Black Lives convening in Cleveland, we led a workshop designed to ask queer and trans black folks what "full equality" means to them that resulted in questions about the very notion of "equality." Participants in the workshop noted that simply striving for equality — not for equity and justice — replicates old patterns and therefore does not move all of us toward true liberation. In a country steeped in anti-blackness and xenophobia, simply protecting folks from discrimination is not enough to stop us from being killed.
These issues are why we have concerns about the Equality Act. A comprehensive proposal to address all the ways in which LGBTQ people face discrimination, harassment, violence and poverty in this country is necessary. But we also want to be clear that the original plan for the bill, to amend the Civil Rights Act of 1964 in an attempt to put patches on outdated and inadequate protections, is not the way to move a truly comprehensive approach forward.
The principles and aims of the proposed Equality Act are important, but that effort should move forward in a way that centers those whom the movement has ignored and erased for decades.
GetEQUAL is committed to centering the experiences, voices and leadership of those who are facing the greatest threats of violence, harassment and instability across the United States. We believe that groups advocating for the rights and lives of LGBTQ people can and must do better than to simply revise an agenda that is no longer working. Over and over again, we've heard those in D.C. say that this is a "message bill" — something that's introduced in order to start a conversation, but that has no chance of actually passing. If this is a message bill, it's sending the wrong message. Let's recalibrate our movement and our community toward liberation, not simply equality.