'I Am Chris Farley' Reviews Are In, and the Film Is as Heartbreaking as You'd Expect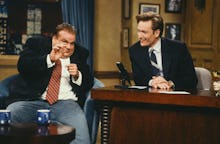 I Am Chris Farley, the documentary about Saturday Night Live comedian and movie star Chris Farley, premiered in theaters Friday. The film highlights the life and struggles of the stand-up comic, who died of a drug overdose 18 years ago at the age of 33.
Reviews for the documentary are mixed, but most seem to agree that it tackles the responsibility of spanning Farley's lengthy career in comedy rather well — from a five-year run on Saturday Night Live to a growing film resume — and focuses on his love for the art of making people laugh. Still, some say filmmakers Brent Hodge and Derik Murray could have done a more thorough job of exploring his personal life and the events that led to his death.
"There's an often palpable tension between the mournful tone of so many of the interviews and the breezier, more celebratory vibe that the directors seem to be seeking." Variety reports. "It's clear enough that Farley suffered from self-esteem issues and an overeagerness to please, but it's sometimes hard to square Farley the generous, well-loved, devout Catholic with Farley the out-of-control cautionary tale who died alone in his apartment after more than a dozen stints in rehab."
Farley was best known for his hilarious skits on SNL, some of which continue to roam the Internet, a testament to their remarkable relatability and timelessness. Farley was also an energetic guest in just about every late night interview he went on. In one interview with Conan O'Brien, he discussed his family and the fact that his mother was the only "calm one of the bunch."
Farley was a physical performer who used antics like falling down, toppling over sets and crashing into other people to get the crowd going. In his performances, Farley would often react to the audience's cheers and laughter by taking a moment to stop and smile, gazing back at the audience and seemingly taking in the applause. By the time he died on Dec. 18, 1997, after an overdose, he had sought help for his drug use and weight problems at least 17 separate times.
His story of becoming a comedic powerhouse while struggling with the excesses of celebrity is all too familiar. I Am Chris Farley is the third documentary out this summer that focuses on a bright star's downward spiral and tragic death. The first was Brett Morgen's Kurt Cobain: Montage of Heck, followed by Asif Kapadia's Amy.
As Entertainment Weekly notes, I Am Chris Farley took a wide view of Farley's life, interviewing dozens of his friends and coworkers: "The film includes testimonials from everybody you would want to hear from on the subject of Farley's life and work, including his brother Kevin, former girlfriend Lorri Bagley, SNL producer Lorne Michaels, and a cavalcade of former collaborators and friends: David Spade, Mike Myers, Adam Sandler, Bob Odenkirk, Molly Shannon, Jon Lovitz and Bob Saget all contribute. The story they tell is one of a people pleaser who conquered the Groundlings and then slayed at Saturday Night Live, primarily on the back of high-energy characters and an undeniable charisma."
But some say the effect of so many remembrances — at the expense of new research, analysis and understanding of his life and death — takes I Am Chris Farley from documentary over into the realm of memorial tribute. The A.V. Club's Kyle Ryan writes, "The relentless parade of talking heads in I Am Chris Farley leaves little time for the moments of profundity to linger before adding more testimony from someone who knew the comedian well."