The Two Officers Who Helped Ray Tensing Lie About Samuel Dubose's Killing Have a Dark Past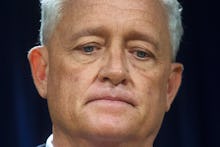 It seemed at first glance like the University of Cincinnati police killing of unarmed black man Samuel Dubose and the attempted cover-up that followed couldn't get much worse.
Now, the Guardian reports that the two officers who corroborated the story of former Officer Ray Tensing — who claimed he was "dragged" by Dubose's car and had to shoot the 43-year-old motorist to save his own life — were also involved in the killing of another unarmed black man in 2010.
Officers Phillip Kidd and Eric Weibel were reportedly among the seven University of Cincinnati police officers who restrained 45-year-old Kelly Brinson during a "psychotic episode" five years back, in the course of which another officer pulled out his Taser, with fatal results.
Here's how that happened, via the Guardian:
Kelly Brinson, a 45-year-old mental health patient at Cincinnati's University hospital, suffered a psychotic episode on Jan. 20, 2010, and was placed inside a seclusion room at the hospital by UC officers. He was then shocked with a Taser three times by an officer and placed in restraints. The father of one — son Kelly Jr. — then suffered a respiratory cardiac arrest and died three days later.
All seven of the officers were named in a civil suit filed by the victim's family that year. The suit accused them of using "excessive force" and acting "with serious indifference" to Brinson's medical needs, according to the Guardian. It was settled for $638,000.
Fast-forward five years later: Shortly after Tensing shot and killed Dubose during a traffic stop on July 19, Kidd and Weibel both contributed to the official police report describing the incident.
Kidd was standing behind Tensing at the time of the shooting. He wrote in the report that he had personally witnessed Tensing being dragged by Dubose's car. Weibel cosigned this account, according to Mother Jones:
"Officer Kidd told me that he witnessed the Honda Accord drag Officer Tensing, and that he witnessed Officer Tensing fire a single shot ... I could see that the back of his pants and shirt looked as if it had been dragged over a rough surface."
None of this turned out to be true. The shooting was recorded on Tensing's body camera, and clearly shows the officer shooting Dubose in the head well before the car drifts a ways and crashes.
When asked during a press conference on Wednesday why Tensing would mislead investigators despite such obvious visual evidence to the contrary, Hamilton County, Ohio, Prosecutor Joe Deters replied, "I'm not saying he's smart, I'm just saying what I think he did."
Tensing aside, we now have two hallmarks of America's fraught relationship with its police forces exhibited by Kidd and Weibel: the violent maltreatment of the mentally ill and the tendency to help fellow officers cover up their misconduct. Whether the two officers will be held accountable for this remains unclear.
h/t The Guardian