Hillary Clinton Calls for an End to the Cuban Embargo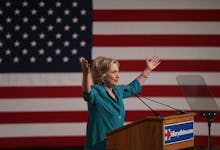 Hillary Clinton on Friday delivered her unequivocal support for President Barack Obama's decision to normalize diplomatic relations with the Castro government by calling on Congress to go a step further and lift the longtime trade embargo on Cuba.
In remarks at Florida International University, where Sen. Marco Rubio (R-Fla.), a Cuban-American, occasionally teaches political science classes, Clinton pushed for broad engagement with the Cuban people as a means of undermining "hardliners in Havana."
Republicans "have it backwards," she said. "Engagement is not a gift to the Castros — it is a threat to the Castros. An American embassy in Havana isn't a concession — it's a beacon. Lifting the embargo doesn't set back the cause of freedom, it advances freedom where it is most desperately needed."
In a statement released Friday morning, former Florida Gov. Jeb Bush, another GOP presidential contender, described it as "insulting to many residents of Miami for Hillary Clinton to come here to endorse a retreat in the struggle for democracy in Cuba."
"The Obama-Clinton policy is rooted in a false narrative that paints the embargo as a relic of the Cold War," Bush said. "They claim to want to free Cuba from the past, but they misunderstand the present. The Cuban people are not imprisoned by the past, they are imprisoned by the Castro regime."
Rubio also preempted the speech, but with a tweet questioning Clinton's foreign policy judgment. In the image below, his team photoshopped Cuban president Raul Castro's head onto the body of Russian Foreign Minister Sergey Lavrov.
Changing course: "If this had happened in 1988, you would have had protests — at best. It would have been very confrontational and provocative," Dario Moreno, a pollster and political scientist at FIU, told Politico before Clinton's speech. "But the times are changing, public opinion is changing."
Clinton may have been an early supporter of opening up relations with Cuba during her tenure in the Obama administration, but conceded in her speech that she had spent decades pursuing stricter policies. The Helms-Burton Act, signed by President Bill Clinton in 1996, gave Congress the power to override an executive decision to lift the sanctions. In her speech Friday, Clinton said she backed the bill when it came to her husband's desk. 
"But as secretary of state," she continued, "it became clear to me that our policy of isolating Cuba was strengthening the Castros' grip on power rather than weakening it — and harming our broader efforts to restore American leadership across the hemisphere."
Clinton's position is unlikely to harm her presidential bid. An MSNBC/Telemundo/Marist poll from April found 59% of Americans were in favor of Obama's early gestures toward reconciliation with Cuba. 
Forty-six percent of respondents to a nationwide survey of 1,400 Hispanic voters conducted in June by Bendixen & Amandi International with the Tarrance Group said the Cuba question would have no influence on their vote.
Among Hispanic voters in Florida, a key presidential swing state, 32% said they were more likely to back a candidate who supported the new policies, while just 19% said they would be less inclined.