Dylann Roof Pleads Not Guilty to Federal Hate Crime Charges for Charleston Shooting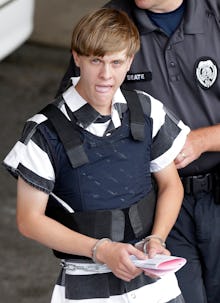 Dylann Roof has pleaded not guilty to 33 charges, including hate crimes, for the June 17 attack of a historic black church in Charleston, where he shot and killed nine parishioners.
Roof appeared in court with his attorney Friday morning to listen to victim's families and also make his plea, according to the Associated Press. Roof's attorney told U.S. Magistrate Judge Bristow Marchant that Roof initially wanted to plead guilty on all 33 charges, but decided to change his plea, since the court hasn't decided whether it will seek the death penalty for some of his charges.
Live 5 News, a local news station, reports that the arraignment was delayed until Friday due to requests from both the government and Roof's attorney.
Roof's attorney told the judge that he was unable to advise his client on whether to plead guilty or not guilty since the court hasn't made its decision, and that the decision was ultimately his client's. Roof did not speak throughout the court process except for answering a simple "yes" to several of the judge's questions. 
Attorney David Bruck is representing Roof, while attorney Wilbur Johnson represents the families of the nine victims from the Emanuel African Methodist Episcopal Church. Roof sat in on a prayer service before he perpetrated a mass shooting. He admitted to the attack in a confession soon after his arrest, claiming he was hoping to ignite a race war.