Nancy Lieberman Is Kings' Next Assistant Coach and Second Woman Coach in NBA History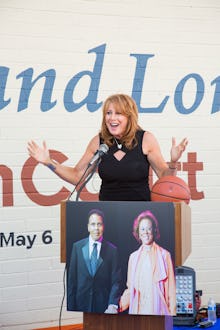 "I am a King," Nancy Lieberman proclaimed to ESPN after accepting an offer Thursday to become an assistant coach with the Sacramento Kings basketball team, making her the second woman to hold a full-time coaching position with the NBA. 
Lieberman, 57, formerly played and coached basketball in the WNBA. The Brooklyn, New York, native was widely regarded as a prominent player in the women's league. At age 39, she played for the Phoenix Mercury during the WNBA's first season, according to USA Today. A year later she joined the then-Detroit Shock as head coach and general manager.  
Lieberman took to Twitter on Thursday and Friday to thank her supporters. 
The official announcement was expected next week, according to ESPN. "Definitely I'm going to offer her a job," Kings vice president Vlade Divac told the Sacramento Bee on Thursday. Sacramento Kings head coach George Karl and "I talked about bringing her back after she helped us at Summer League [in Las Vegas.] She was terrific. She brings a different dimension. I think is a nice opportunity for her."
The move has positioned Lieberman to become the second woman to join an NBA team as a full-time coach. The San Antonio Spurs hired retired professional basketball player Becky Hammon, 38, in April 2014. 
"The thing that catches everybody's eye is that we're women coaching men," Lieberman told the Associated Press earlier this month. "Eventually, it'll be normal. But certainly, Becky has opened up a tremendous door."