A Secret Donald Trump Documentary Suppressed 25 Years Ago Has Just Been Released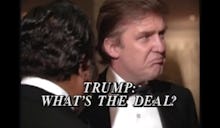 In 1988, Leonard N. Stern, the billionaire real estate developer and NYU business school namesake, commissioned a documentary about Donald Trump. Called What's the Deal?, the film was to be part of a series about celebrity businessmen, and it was completed in 1991. 
The footage, however, was not pretty, and Trump threatened to sue anybody who distributed the film. Aside from a few private screenings, the documentary was suppressed and vanished without a trace.
Until now. 
A website, TrumpTheMovie.com, has released the film with a note reading, "Now that Trump is running for president, it is time for the American People to meet the real Donald and learn how he does business. The old Trump and the new Trump? They're the same Trump." (That emphasis was in the original.) 
In one scene, Trump upbraids former CNN megastar Larry King for having bad breath. When Trump asks if anyone has ever told him that, a stunned King replies, "No."
Other memorable moments include Tony Schwartz, co-author of Trump's most famous book, Trump: The Art of the Deal, telling the camera the businessman would crumble without media attention, and an early Jonathan Alter speaking from a cluttered miasma complete with a prehistoric Apple computer — and that's just the first 10 minutes.
"I've been sitting on this film for 25 years," producer Libby Handros told Mic. "I figured someday it would be worthwhile."
According to Handros, the movie was made during a period when Stern was trying to rebrand himself as a media magnate. Through his contacts, Trump immediately became aware of the project, but the filmmakers' mistake was leaking one single question they were investigating: Does Trump really have as much money as he says he does?
"That totally freaked Donald out," Handros said, adding that after that, the film's release hit a dead end. Those with the power to transmit the film feared Trump's legal team. "There were three networks ... You didn't have to do much to get broadcasters scared."
The Trump movie website offers the film for free but includes a link soliciting donations to support Handros' work through her company, The Press and the Public Project.   
Donald Trump is currently the Republican frontrunner for the 2016 presidential election.
Watch the full 82-minute film here.