Fashion Needs to Start Paying Attention to Big Boobs — and Here's Who's Leading the Way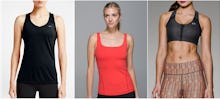 I once had a boss who told me I couldn't wear vests. Couldn't. Wear. Vests. So I never wore them again — I was embarrassed. But the truth is, I don't feel like I can pull off vests thanks to my chest size, a 34DD. Nor can I really wear strappy tanks, off-the-shoulder dresses or those crop tops that pair so well with culottes these days.  
Those fashion trends will fade away (thank goodness, because culottes). But the flat-chest standard endures, influencing the kinds of clothes that fill magazines and stores. As one writer put it in the Guardian recently: "Fashion ignores boobs."
That is, except for one part of the industry: workout gear. And fashion designers should be looking to the humble sports bra to learn some important lessons. 
Facing the small-boob standard: We might assume models are just pretty faces, but they actually influence clothing on a practical level, setting our beauty standards as well as serving as reference for actual clothing design.
That doesn't bode well for the average American woman, who stands at 5 feet, 4 inches and weighs 166 pounds, according to the Centers for Disease Control and Prevention. Models measure around 5 feet, 9 inches to 6 feet and weigh closer to 110 pounds, according to NBC News. When it comes to chest size, a 2013 survey found that the average bra measurement is a 34DD, while models tend to be decidedly smaller.
"If you look at the models designers use to pattern their designs, they've got small chests, so it makes sense that the clothes don't always work so well on women with larger chests," shopping expert Jeanine Edwards, editorial director of SheFinds, told Mic. 
Practical matters prevent much variation from that body type. "From a fiscal standpoint, it doesn't make sense to create a whole new category of clothing just for large-chested women if they are already willing to prescribe to either a 'straight' or 'plus' sizing category and tweak it to their needs," Shea Daspin, a New York City-based fashion stylist, said to Mic.
Edwards agreed, sounding the industry conventional wisdom: "It's really not financially feasible to create every item for women with every different breast size."
Tons of trends, made for one body: My own frustrations with clothing, like those of so many other women, aren't just about fit; they're about trendiness. Just take what Kendall Jenner wore in her Marc Jacobs runway debut last year. The deep V-neck, the flimsy material — it's edgy and on-trend, and exactly the kind of outfit that leaves little room for an ample bosom.
The same goes for graphic geometric prints, double-breasted coats and ruffly tops, all trends cited in Harper's Bazaar's Fall 2015 Fashion Report, which will likely pop up in the H&Ms and Zaras of the world before long. I asked my friend who wears a 36DDD how she felt about these trends, and she responded with a simple guffaw — big-breasted language for "forget it."
These on-trend frilly blouses and heavy outerwear should be available in every size, and they usually are. The bigger problem is that the actual designs — and the mass fashions they spark — don't seem to take bigger chests into account. Just hear Elisa Benson, social media editor at Cosmopolitan, talk about the trends she feels she can't join in on:
"Cross-body bags awkwardly snuggle up to your armpit."
Designer Yael Aflalo, creator of a clothing line called the "I'm Up Here" collection, agreed that dressing for a bigger chest often means going "against dominant fashion trends." 
And Edwards told Mic, "Sadly, the fashion world still has a long way to go when it comes to addressing the diversity of women's body types."
The bright spot of workout wear: The activewear world, responsible for our favorite "athleisure" yoga pants and sneakers, works with performance in mind. Jumping, running and cycling without restraining heavy breasts is uncomfortable at best and dangerous at worst. That means activewear brands are addressing breast size and comfort more than most.
Sports bras are a hotbed for this kind of innovation. Brands like Nike that used to only offer compression bras (the "uniboob" kind that just hold breasts back) now offer the all-important encapsulation solution, in which breasts are held in cups to limit movement and protect tissue. Nike offers up to size 38E for its Pro Rival Sports Bra. 
Likewise, Under Armour's Armour Collection, promoted with kickass ads featuring all-stars like skier Lindsey Vonn and ballerina Misty Copeland, will soon debut its High Armour Bra, made with bigger chests in mind, a brand rep told Mic.
That breast-friendly innovation extends into the athletic clothing realm, where the ethos of performance and comfort hold. Under Armour is a favorite for women with bigger busts, while the North Face also has designs with curvy women in mind.
Yes, there are strides to be made in designing activewear for all "plus-size" bodies. But the activewear industry seems to have women's bodies in mind more than the rest of fashion.
"Different physiques and different body types require a heightened focus on narrowly tailored personalization," Julie Igarashi, Nike's vice president of global design for women's training, told Mic. 
In other words, activewear brands are thinking about bodies, which means they're thinking about how different all women's bodies are — and that includes boobs.
Getting noticed for the right reasons: It's impossible for shoppers to totally change the ebb and flow of trends, particularly those born on the runways of Paris and Milan. But when it comes to filtering those trends down to regular women, more brands should be keeping bigger chests in mind.
"I think if more women spoke up about their discontent in this specific kind of sizing, then larger companies would see the demand and feel more compelled to make this change, or at least explore it," Daspin told Mic. 
Maybe fashion should be looking to the activewear market when it comes to make their design decisions — especially if I have an autumn full of high necks, bold prints and (shudder) vests ahead of me.