8 Movies That Powerfully Depict Living With Mental Illness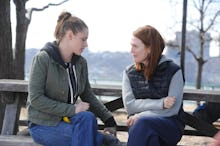 Depictions of living with mental illness in movies are a mixed bag. For every portrait of depression that's nuanced and realistic, there's Glenn Close boiling a bunny in Fatal Attraction. The surreal, wild portrayals of disorders in movies like Single White Female and The Boy Next Door can be fun, but they're ultimately irresponsible.
That's what makes the movies that get it right all the more valuable. They're neither wholly positive or negative, just as living with mental illness has ebbs and flows. They're striking portraits, and examples of what we need more of in Hollywood. Here are eight that stand out as exemplary of their form.
1. Punch-Drunk Love
Featuring Adam Sandler's finest performance, Punch-Drunk Love's beauty lies in its insularity. Sandler plays Barry, a quiet man suddenly thrust into an incredibly active world. He lives with some form of mental illness — most likely schizophrenia or schizoaffective disorder — and it threatens to derail his budding relationship with Lena (Emily Watson).
While there is external drama pushing the plot forward, Punch-Drunk Love excels by getting into its main character's head. It's a lovely film, a highlight of director Paul Thomas Anderson's canon.
2. Silver Linings Playbook
Mental illness doesn't have to be a point of dissent between people; it can be an intense connection. That's the basis of Silver Linings Playbook, the 2012 romantic comedy that earned Jennifer Lawrence her Oscar. She plays Tiffany opposite Bradley Cooper's Pat, two neurotic people who fall in love after Pat gets out of a mental health facility. Pat is bipolar and divorced, but wants to make changes in his life. Together, he and Tiffany grow into something quite beautiful.
3. Ordinary People
Post-traumatic stress disorder is often associated with war — in cinema, think of The Deer Hunter. But this 1980 movie starring Donald Sutherland, Mary Tyler Moore and Timothy Hutton deals with a much more domestic form of PTSD. 
Hutton plays Conrad, a brother mourning his sibling's death, even attempting suicide while consumed by survivor's guilt. Moore is his mother, a woman misunderstanding of her surviving son's suicide attempt and desperately attempting to move on without truly processing. Sutherland is the father just trying to hold on to them both. Ordinary People is a staggering portrait of how trauma affects a family.
4. The Perks of Being a Wallflower
At first, Perks of Being a Wallflower appears to be a portrait of a socially anxious teenager. As played by Logan Lerman, Charlie, whose best friend is dead, has a really hard time fitting in. Alone, this would be impressive enough. But as the narrative peels back its origin, a terrifying secret about what's happened to Charlie is revealed.
Like Ordinary People, Perks of Being a Wallflower isn't a movie about the highly cinematic PTSD. It's a small portrait of how one boy is affected by the actions and illnesses of adults around him. This isn't just another teen movie — it's far more intricate than it would seem.
5. Bridesmaids
It's hard to think of a raunchy Judd Apatow comedy as a beautiful meditation on depression, and yet Bridesmaids nailed it. Annie (Kristen Wiig) is in an incredibly hard place and can't pull herself out of it. She's freshly broken up with, financially troubled and jealous of what others have. Watching her best friend find her own happiness as she gets married should be wonderful, but it's all the more painful to be left behind.
The stand-out scene is between Annie and Megan (Melissa McCarthy), in which the latter literally pushes Annie out of her funk. She manifests Annie's depression physically. It's as striking and powerful a portrayal of what it feels like for a person living with depression as we can remember.
6. Inside Out
How fitting that a movie about emotions would so perfectly encapsulate when they fall out of balance. As voice actress Kaitlyn Dias told Mic, her character Riley experiences a form of depression during the film. "She can't feel anything. She gets this idea stuck in her head and things just go haywire," she said of a sequence where Riley's mind goes dark. "They actually did a lot of research with psychologists to get really good ideas of how the mind works so they could more accurately portray it, but still with artistic license."
7. Still Alice
Staring down the possibility of forgetting everyone you love is a terrifying proposition. Alzheimer's is incredibly difficult to portray in a way that doesn't feel manipulative or hackneyed, yet Julianne Moore pulled it off with flying colors in Still Alice. She balances Alice's fear of what's coming with a courage to keep fighting despite impossible odds. She stays connected to her family for as long as she can.
Still Alice is heartbreaking, in large part thanks to Moore and Kristen Stewart's stirring performances. Moore's sensitive, heartbreaking work earned her an Oscar, and rightfully so.
8. A Separation
On the other side of the Alzheimer's coin is A Separation, the gorgeous 2011 Iranian film that earned the Oscar for best foreign film. There's so much happening in this movie, but the cornerstone of much of it is one man's father, an elderly man living with Alzheimer's. 
His son Nader (Peyman Moaadi) won't leave his father, thus won't leave Tehran with his wife Simin (Leila Hatami). She seeks a divorce, thus requiring Nader to hire a caretaker for his father while he's at work. That woman, Razieh (Sareh Bayat), gets injured on the job, spurring a trial that dominates the narrative. It's an incredibly complex movie, and its ripple effect is a stellar example of how mental illness doesn't just impact the person living with it.
Correction: August 5, 2015