Nicki Minaj's "Anaconda" Helps Indian Rapper Sofia Ashraf Send a Message About Pollution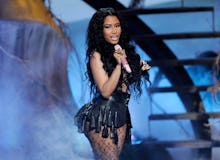 When a major company pollutes a city's water with toxic chemicals and won't clean up its mess, Nicki Minaj will be there to call them out. Or, at least her songs will be.
Minaj's "Anaconda" was the inspiration for Indian rapper Sofia Ashraf's video spotlighting Unilever, a consumer products company that polluted waterways in Kodaikanal, a city in the Indian state of Tamil Nadu. According to New Indian Express, the multinational conglomerate polluted the city with mercury over a decade ago, but their operations have continued to affect the city's population.
In response, Ashraf, who's rapped about social causes before, changed the lyrics of Minaj's hit to send a message to the polluters. 
"Kodaikanal won't, Kodaikanal won't, Kodaikanal won't step down until you make amends now," Ashraf sings in the music video remake of Minaj's "Anaconda," which she uploaded to YouTube.
"They dumped their waste in the local shrubbery," she continues. "Now that's some toxic shit."
Mercury poisoning of water sources in the area have previously been linked to a now-defunct mercury thermometer factory owned by Unilever. Locals effected by the company's chemical dumping have reported issues such as heart problems, blindness, miscarriages and death.
Unilever is the third-largest consumer products company by revenue in the world behind Procter & Gamble and Nestle, according to USA Today. The factory closed in 2001 after 18 years in operation, according to Green Peace.
"Unilever dumped toxic mercury in Kodaikanal, poisoning its workers and the forest," a message at the beginning of Ashraf's video reads. "In the past 14 years, Unilever has done nothing to clean up the contamination and compensate its workers and their families, despite talking a big game about corporate social responsibility."
Watch the full version of the "Anaconda" remake below.