11 Women's No-Bullshit Responses That Shut Down the "Should I Wear Makeup?" Debate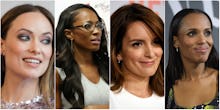 If you've ever been shamed for wearing — or not wearing — makeup, remember this: What you decide to put on your face is nobody's business but yours.
While that may sound obvious, the mere act of applying make has been the focal point of the latest cultural conversation around beauty, as young women examine the role makeup plays in their lives.
The rise of the "no-makeup selfie" reminds women that they don't need beauty products to feel beautiful. And a campaign around #PowerofMakeup, led by beauty vlogger Nikkie de Jager, shut down "makeup-shaming" by getting hundreds of women to post selfies with their faces half painted with makeup and the other half bare. The message: to prove how cosmetics can be an empowering, positive feature of their lives.
"If something can make you feel good, then embrace it!" Katie A. of Beauty and the Boutique, a U.K.-based makeup artist and beauty vlogger, told Mic. "Some people might do exercise to feel good, some people might read to feel good. And to me, makeup's an outlet to feel good."
It can also be a way to boost confidence when it's desperately needed. A powerful before-and-after video by beauty vlogger Em Ford showed how cruel the world can be to those with blemishes, which adds to the pressure some women feel to wear makeup at all times.
"We have to feel good about how we look when we're interacting with other people," said Jenny Patinkin, a Chicago-based celebrity makeup artist, to Mic. What exactly that means is up to you — just take it from these famous women.
If going makeup-free is your style, stick with what makes you happy.
But if getting all gussied up is what you love, that's cool too.
For many, it's less about the transformation and more about feeling your best.
After all, whether or not you wear makeup doesn't change who you are.
Above all, you do you. Makeup is what we make of it — for ourselves.