Subway Jared's FBI Investigation Just Took an Even Darker Turn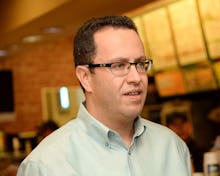 The Federal Bureau of Investigation is looking into allegations that former Subway spokesman Jared Fogle, whose home was raided in July as part of a child pornography investigation, bragged in text messages about having sex with a 16-year-old girl.
Business Insider reports that the FBI has subpoenaed text messages between Fogle and a female Subway franchisee he was engaged in a sexual relationship with in 2008. In the exchanges, Fogle repeatedly refers to having used Craigslist to pay $100 for sex with a teenager. The age of consent in Indiana, where Fogle lives, is 16.
The older woman apparently grew uncomfortable with these and other messages from Fogle, who also asked her to post listings on Craigslist advertising herself to other men and set up a tryst between the couple and the woman's underage cousin.
"How young would you like?" Jared allegedly wrote in April 2008. "Would you want to have an adventure like that?"
"Any more news with your cousin?" he sent a month later. "Tell me what u think about when u think of the three of us all together???"
The woman says that she complained to Subway managers, but that they failed to act on the information contained in the text messages.
According to the Indianapolis Star, Fogle has not been formally accused of any crime, though Jared Foundation head Russell Taylor is currently facing a federal grand jury over child pornography charges.
h/t Business Insider