Did Marijuana Just Beat D.A.R.E. and Win the War on Drugs?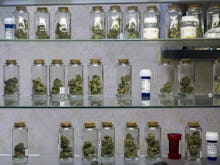 A blog post denouncing "marijuana hysteria" and claiming "legalizing and regulating marijuana will actually make everyone safer" accidentally ended up on Drug Abuse Resistance Education's website on Friday.
Instead of articles with headlines like "Number Of Toddlers Being Exposed to Marijuana Skyrockets" or "Marijuana cookies blamed for suspected suicide in Colorado," visitors to the most visible and widespread international anti-substance abuse program briefly read an op-ed column proclaiming "we already tried alcohol prohibition and it was a violent catastrophe, too."
The post has since been removed from the D.A.R.E. website, but was captured in full by New York magazine:
"The article you wrote about was mistakenly posted on our website by a service we use," D.A.R.E. Director Ronald J. Brogan wrote in an email to New York. "We have not changed our stance of being opposed to the legalization of marijuana."
As an educational tool, D.A.R.E. has lost its prestige since 1998 thanks to a bevy of studies demonstrating that its abstinence-oriented program was ineffective and, in some cases, actually counterproductive. Newer programs focusing on different approaches to drug education have since gained more national attention, though D.A.R.E. continues to administer its anti-drug and anti-violence program in many U.S. schools. Its information and techniques are often questioned as unreliable.
It's not the first time the program has made a mistake likely to tickle the funny bone of stoners nationwide. In May, D.A.R.E. accidentally posted a satirical article claiming nine had died in Colorado and 12 at Coachella Valley Music and Arts Festival after ingesting "dangerous homebrewed gummies" known on the street as "'Uncle Tweety's Chewy Flipper' and 'Gummy Satans.'"
h/t NYMag