Cecil the Lion's Brother Jericho Is Probably Alive and Well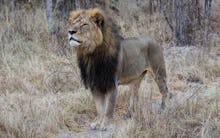 A Zimbabwean conservation nonprofit says that Jericho, brother of the slain lion Cecil, has also been killed in Hwange National Park. But scientists tracking the lion say he is totally fine.
USA Today reported that a hunter illegally operating in the park killed Jericho on Saturday. The nonprofit Zimbabwe Conservation Task Force issued a statement via Facebook saying its members were "absolutely heartbroken."
"I'm very disappointed, I'm heartbroken," chair Johnny Rodrigues told USA Today. "It's just too much."
However, researchers monitoring Jericho's movements are contesting the story, insisting that news of the lion's death is pure sensationalism:
BuzzFeed reports that other conservation groups in the area have confirmed the lion to be alive and well.
According to Oxford University's David Macdonald, Jericho may be able to protect Cecil's cubs from harm after the latter's death at the hands of a Minnesota dentist named Walter Palmer during an illegal hunt in July.
"Now [Cecil] is gone, Jericho is a lone territorial male, and he has to defend territory alone," Oxford University's Brent Stapelkamp previously told theTelegraph. "Jericho is a very experienced male. I caught him a few days after Cecil's death. His collar had died some time before, and I put a new one on and we are watching him like hawks."
Hundreds of thousands of people signed a petition to hold Palmer and the Zimbabwean government responsible for Cecil's death. On Saturday, the National Parks and Wildlife Authority announced new restrictions on the hunting of "lions, leopards and elephants in an area favoured by hunters," while the government maintained it would seek Palmer's extradition from the United States.