Another American Has Been Implicated in the Death of a Lion in Zimbabwe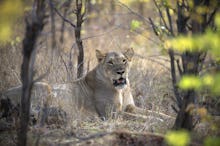 Zimbabwean authorities have implicated a second American in the killing of another prized lion near Hwange National Park.
The second lion was slain months ago in a similar fashion to the death of Cecil, the famous lion whose illegal killing by a Minnesota dentist named Walter Palmer sparked international outrage. CBS names the suspect as Jan Casmir Sieski of Murrysville, Pennsylvania, and reported that authorities have also arrested a local named Headman Sibanda in relation to Cecil's case.
Sibanda is accused of "breaching hunting regulations in that he hunted without a quota and permit at his Railway Farm 31 and is also the owner of Nyala Safaris which conducted the hunt," officials said in a statement issued to CBS. According to the Associated Press, Sibanda may be involved in both cases.
This weekend, word hit the Internet that Cecil's brother Jericho had also been killed by poachers operating in Hwange National Park, although scientists involved in tracking Jericho quickly shot down the news as baseless rumor.
The Zimbabwean government has since suspended hunts for lions, leopards and elephants in the area where Cecil was killed, though it has historically allowed hunters to take anywhere from hundreds to thousands of the animals in regulated hunts. Safari Operators Association of Zimbabwe chairman Emmanuel Fundira told the AP "Hunting brings in no less than $40 million a year."
Zimbabwean authorities are seeking Palmer's extradition for participation in the illegal hunt.