16-Year-Old Girl Stabbed At Jerusalem Pride Parade Dies in Hospital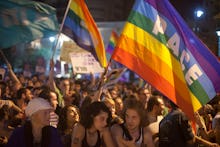 A 16-year-old girl among the six people wounded on Thursday by a knife-wielding ultra-Orthodox Jewish man at a gay pride festival in Jerusalem has died, CNN reports.
CNN identified the victim as Shira Banki. The attacker, Yishai Shlissel, had just been released from prison after a decade-long sentence stemming from a similar incident in 2005.
In a statement, Israeli Prime Minister Benjamin Netanyahu told CNN, "Shira was murdered because she bravely supported the principle that each one can live their life in honor and security."
"We will not allow this despicable killer to undermine the core values that Israeli society is based upon," he continued. "We contemptuously denounce his actions of hate and violence. We will do everything in our power to bring this killer to face justice."
Photos and videos from the scene of the attack showed victims being treated by fellow attendees and emergency personnel, as well as Shlissel's capture.
According to the Washington Post, Israeli President Reuven Rivlin denounced both the attack on the pride parade and another incident in which extremist settlers "firebombed" two Palestinian homes in the West Bank, killing a toddler, on Saturday evening.
"... the flames are spreading in our land, flames of violence, flames of hatred, flames of false, distorted and twisted beliefs," Rivlin said. "Flames which permit the shedding of blood, in the name of the Torah, in the name of the law, in the name of morality, in the name of a love for the land of Israel."
"An atmosphere has been created here that has allowed leniency toward what is naively called 'weeds,'" he added.
The attacks come as right-wing religious parties have assumed a more powerful role in governing the country.
Earlier this year, Netanyahu was forced to apologize after he made comments about Israeli Arabs widely seen as racist during the final days of the 2015 election season, which some pollsters suggested threw the elections in favor of the Israeli right-wing. Since then, far-right parties have played a large role in his governing coalition. Netanyahu has more recently come under fire for backsliding on a major reform package in a move seen as a concession to ultra-Orthodox parties in the Knesset.
In the popular left-wing newspaper Haaretz, Aeyal Gross wrote that Netanyahu's "condemnations are also hollow – both because of his coalition partners but also because his governments have done close to nothing to end legal discrimination against the LGBT community."
h/t CNN