9 Breathtaking Photos Show the Empire State Building All Lit Up for a Fantastic Cause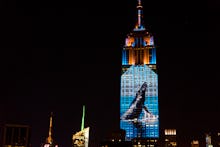 The late Cecil the lion and other endangered species lit up the sides of the Empire State Building on Saturday, drawing attention to the plight of threatened creatures amid outrage over the recent illegal slaying of Cecil in Zimbabwe's Hwange National Park.
Time reports that the show, titled Projecting Change, is "part of a promotion for the upcoming documentary Racing Extinction." The creators of the documentary describe themselves on Facebook as "a team of artists and activists expose the hidden world of extinction with never-before-seen images that will change the way we see the world."
The team posted images to Facebook highlighting projections of various endangered animals on the landmark, including Cecil himself:
The Associated Press also captured some lovely images of the projections, which included tigers and whales:
Here are some of the high-powered projectors behind the event:
According to NBC New York, more than 160 animal species were displayed over 33 stories of the building, in what the creators "billed as a first-of-its-kind live video projection."
h/t Time