Watch the First Really Really Ridiculously Good-Looking Trailer for 'Zoolander 2'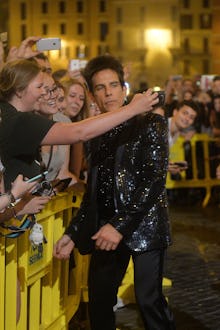 The first trailer for Ben Stiller's Zoolander 2 is officially here.
First leaked on Friday, the teaser trailer has since been officially uploaded to YouTube by Paramount Pictures. Featuring a Stephen Hawking-style voiceover, the teaser guides the viewer through the titular character's golfball-sized brain and asks the philosophical question that has bedeviled men like Zoolander for all of human history: "If God exists, then why did he make ugly people?"
While the teaser gives no details on the plot, Time reports that the film is set more than a decade removed from the original movie and includes the return of Stiller, Owen Wilson, Christine Taylor and Will Farrell, as well as new arrivals Penelope Cruz, Kristen Wiig and Cyrus Arnold. According to Entertainment Weekly, cameos include Willie Nelson and Justin Bieber.
Until more information arrives, fans of the series can placate themselves by pondering the other big questions about life, such as whether there's more to it than being really, really, really, ridiculously good-looking or if it's possible to Dere-lick one's own balls.
Watch the full trailer below: