The Internet's Agreed This Is the Jacket of the Future — Why Won't Men's Fashion Notice?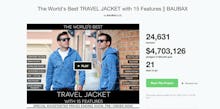 This July, New York City joined the rest of the fashion world and launched its own Fashion Week dedicated solely to men. While news of the event generated a lot of press, reaction to the actual runway shows was mixed. Experts debated whether it was necessary, given fashion's shift to jettison gender divides; and most real guys in New York didn't seem to know it even happened, judging by a survey by the Cut.
Meanwhile, over on the Internet, a single jacket was going viral and racking up millions in funding from fans, including plenty of men — and perhaps, in the process, revealing something about what men really want.
Pinpointing what guys really want: The jacket is the highly functional travel jacket, designed by BauBax and funded on Kickstarter. The garment, designed in four styles for both men and women, includes a built-in neck pillow, gloves, headphones holder and iPad pocket, among other hidden features. 
The jacket is also the most-funded clothing item ever on Kickstarter, as Mic reported in July — a fact that would appear to fly in the face of the fashion industry's menswear fixations.  
Cultural conversations about menswear tend to focus on a rising interest in "dapper" clothing like suits, and industry insiders seem fixated on the boom in luxury menswear specifically. It's true that menswear sales in America are on the rise; but the rise is largely thanks to millennials' strong purchasing power, and young guys aren't necessarily buying the dapper clothes in magazines or Fifth Avenue windows.
Instead, it would appear they're seeking more straightforward clothing from the likes of Coach, Michael Kors, Ugg and Lululemon. The startup brands drawing young men also are remarkably unfussy; Bonobos, one of the most successful new clothing brands for millennial guys, "started with a simple idea: create pants that fit," according to USA Today. 
BauBax's viral travel jacket might be the starkest indicator yet of what men really want: functional clothing.
For many guys, function comes before style: "I never really looked for 'functionality' in my clothes, but I might not realize how much I needed it until I wear a jacket like this," Jason, a 29-year-old lawyer living in New York City, said to Mic about BauBax's travel jacket.
Function, it would seem, is at the core of an item's appeal, a necessary baseline for anything stylish. "I care that my clothes look good, but I'm not overly into fashion," Eric, a 24-year-old financial analyst working in New York City, told Mic. Of the travel jacket, he said, "It looks like a jacket I would wear."
That ideal blend of style with pure function is what BauBax's makers had in mind.
"I think anyone, both men and women, are drawn to products that are stylish, comfortable, functional, convenient and that offer special features," Hiral Sanghavi, one of the co-founders of BauBax, told Mic in an email. Sanghavi and his co-founder, Yoganshi Shah, said they plan to launch more functionally focused lifestyle products, including another clothing item, in early 2016.
Aman Advani also agreed that men's fashion should be thinking more functionally, particularly if it wants to appeal to younger guys. Advani is the co-founder of of Ministry of Supply, a clothing brand focused on "performance menswear," as he told Racked. (Racked called it "the Clothes Version of Soylent.") 
"We're catering to a generation of people who grew up on Nike, not cotton running shorts," Advani told Mic. "We've come to expect function in our wardrobe and recognize the power it can have on your performance. So the next logical question would be — why not infuse this methodology into the rest of my closet and the rest of my day?"
Even if men don't realize that's what they need. 
"The extra features are interesting and unique, and I can definitely understand why that makes the jacket so popular, but for me I just like how it looks," said Jason. He then added, "Plus, I like wearing lighter sweatshirts or jackets in the fall, and the blazer would go nicely with my work suits, which I seem to wear more than regular clothes now." 
Function doesn't have to mean high-tech: So far, high-profile attempts to fuse fashion and technology have been met with lackluster response. The hype around Google and Levi's "smart jeans," for instance, faded quickly. And lest we forget, the Apple Watch, for which sales are not being released, hasn't exactly replaced all our wristwatches.
The BauBax jacket, on the other hand, is an example of low-tech innovation.
"Items like the [BauBax] jacket are what real people look for, for their real life demands," Angelo Flaccavento, a fashion critic for the Business of Fashion, told Mic. "Functionality, however, can look extremely unappealing, or a little bit nerdy. The Kickstarter jacket, for instance, has a decidedly gadget-y feel to it, which makes it a bit hard to appreciate as a fashion item per se."
But that might be exactly the point. A fashion item doesn't need to scream "fashion" to appeal to men today, but it does need to work for their daily lives. Stylish is good, but it can't override function. (One can't help but picture the scene in Crazy Stupid Love in which Ryan Gosling makes over Steve Carrell in suffocating layers for a GQ-worthy outfit. Carrell's feedback: "I feel like I'm going skiing.")
Flaccavento agreed that the proper merging of function and form is the way of the future, as opposed to the "dapper" fashion now being lauded. "Dapper fashion is too often nothing more than an exercise in style," he says. "Designers should delve more in this area."
Advani echoed the point. "Don't get me wrong – 'fit' and 'look' are incredibly important," he said. "But increasingly, the story behind the products, the versatility and the functional benefits all play a role in buying decisions."
Striking that perfect balance might be the key for plenty of young guys, who are often looking to solve fairly simple fashion dilemmas. "I don't follow fashion trends," said 29-year-old Jason, when informed about the Kickstarter jacket. "I never knew this existed until today... [but] I consider the jacket fashionable."
Perhaps the rest of the menswear industry will take note.