This Muslim-Themed Porn Is Trying to "Empower" Middle Eastern Women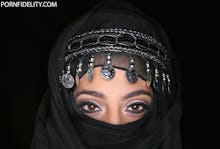 The opening scene of the trailer for the upcoming porn film Women of the Middle East features a woman in fishnets, high heels and a black thong, who leads a man around by the collar before straddling him and gazing deeply into his eyes. 
While such a scene is pretty much par for the course in porn, there's a twist: The woman is wearing a niqab, a traditional Muslim head covering worn by women in the Middle East. 
Women in the Middle East is a film by the adult production company PornFidelity, run by husband-and-wife team Ryan Madison (who plays multiple roles in the film, including that of a Saudi businessman) and Kelly Madison. The film features four pornographic vignettes starring Pakistani-American performer Nadia Ali and the half-Iranian, half-Tunisian Arabelle Raphael, as well as so-called "ethnic" performers like Nikki Knightly and Karmen Bella. 
The women recreate various stereotypical Middle Eastern tropes: the subjugated wife, the sexy belly dancer, the trafficked prostitute, etc. But, as evidenced by the opening scene of the trailer, the film hopes to subvert these stereotypes by portraying Muslim women as sexy and empowered. 
"I didn't want to do a 'just put her in a burqa and do a big gang-bang' type thing," Kelly Madison told Mic. "I thought I'd put a little bit of my feminism in this video. I had to put my own social commentary into it." 
There's nothing new about fetishizing Middle Eastern women: While seeing a woman in traditional Muslim garb pop up in porn is indeed shocking, it's not exactly unprecedented. If you Google "hijab porn" or "Muslim porn," you'll find hundreds of thousands of videos with such culturally sensitive titles as "Arab Muslim with Nice Tits Gets Fucked" or "Paki Aunty in White Burqa Enjoys Muslim Sex." 
The clips typically depict women in traditional Muslim head coverings or full-body burqas performing a wide range of sex acts — as Lebanese-American porn star Mia Khalifa did in Mia Khalifa Is Cumming to Dinner, which prompted an enormous backlash in the Muslim world when it was released in November 2014. It also led to a huge spike in the popularity of Muslim-themed porn: According to Google Trends, searches for "hijab porn" have been on the rise for quite some time, with searches spiking after Khalifa's scene made headlines in January.
Because the hijab and niqab are symbols of modesty, and because pornography is strictly forbidden in Muslim culture, viewers theoretically get off on the forbidden thrill of watching a Muslim woman be "defiled" in the garment. 
American pornographic magazines like Playboy and Penthouse have actually been portraying women in hijab for years, according to The Veil Unveiled, a 2003 study of the hijab in modern culture by University of Texas professor Faegheh Shirazi. Traditionally, the image of the veiled Muslim woman in American porn was a symbol of licentiousness, creating "an image of the Middle East as a world in which every sexual behavior known to mankind is enjoyed," Shirazi writes.
In recent years, however, strained United States-Middle East relations and growing anti-Islam sentiment have led to more specific Muslim stereotypes in porn, according to Shirazi. Many magazines and movies depict the veiled Muslim woman as a victim of male oppression, a demure slave to her husband's whims. Such images, Shirazi writes in her book, propagate the Western stereotype of Muslim women as "veiled women [who] revel in submission to their master[s]."
Flipping the script, or exploiting old stereotypes? Madison is clearly trying to take on that stereotype in Women of the Middle East. Instead of shooting the standard scene of a woman in a burqa getting gang-banged, Madison shot a BDSM scene, featuring a Muslim woman in a dominant role, as well as a scene in which a veiled woman from Saudi Arabia takes the keys to her husband's car. (Spoiler alert: She was picking up his dry cleaning before dinner.) 
While these scenes aren't exactly more politically nuanced than your average Pornhub fare, Madison said she intended them to spark a conversation about the oppression of women in the Middle East. "I was very conscientious about not affecting or depicting the Muslim religion in a bad way. I just wanted to take Muslim women and show them as sexual beings," she told Mic.
Although Madison insists her film is a hardcore porn, "not a documentary into the plight of [Muslim] women," the film's political aims are plain in the trailer, which opens with a caption urging women to take off their veils and shed what Madison views as a symbol of male oppression. 
"There is a large group of women that want to wear burqas. They feel it is their religion," Madison said. "But reading up on it, if they go out in public without being covered, they get yelled at, they get raped. It's very oppressive."
But the decision to wear hijab is not one that is strictly determined by the threat of violence or male oppression. Muslim women have many reasons to wear hijab, and not all of them have to do with the fact that men say they should. "When one views a veiled woman as a victim, another may take a different perspective and view her as an empowered woman who [does] not want to expose her sexuality in public and is very proud to call herself a good example of a Muslim feminist," Shirazi told Mic. 
The veil as a symbol of oppression, Shirazi added, is a Western myth that ignores the complex reasons why women would choose to wear the garment. "What is missing from most of the Western discussion of the veil and woman as a victim is the opinion of the veiled women about themselves," she said.
Sexual agency and empowerment aren't always synonymous. Women of the Middle East glosses over such nuanced interpretations of the hijab. But Madison doesn't appear to be concerned that Muslim viewers will be appalled by the propagation of stereotypes. Porn has a history of taking stereotypes about race and religion and exploiting them for titillation purposes; there's porn that makes fun of Christianity, featuring nuns getting it on in a convent. There's hot Latina porn and "ebony" porn and Asian porn, featuring stereotypically submissive "Oriental" women. 
While some might find such blatantly racist tropes offensive, porn producers say they're catering to people's subconscious sexual fantasies about various ethnic groups. The porn we masturbate to is guided by "purely hormonal, irrational decisions," Adam Grayson, the CFO of Evil Angel Productions, recently told Mic. It might be exploitative, but it's seemingly there to fulfill a legitimate desire.
Madison sees Women of the Middle East as falling into this camp. 
"I think you gotta look at who's doing [the porn], where it's coming from, what is it for? Would I ever incite violence by making fun of Allah? Hell, no," Madison said. "I just think, wouldn't it be great to see what these beautiful Muslim women would look like having sex, and catering to a man's fantasy about that?"
When asked whether her film exploits harmful, offensive racial stereotypes about Muslim women in the same vein as, say, an adult movie about hot Latina maids, Madison demurred, citing the "escapist, fantasy" element of the porn world. 
But while we don't fully control what we fantasize about or what turns us on, our sexual desires don't exist in a vacuum; they're shaped by cultural context. Madison, however, insists that even though her film trades in on the taboo of seeing a Muslim woman unveiled, she depicts them in a respectful — even empowering — way. 
"[Muslim] women are really dealing with some crazy shit," Madison added, citing the example of Afghani feminist politician Shukria Barakzai, who has been subjected to a number of assassination attempts. "I obviously can't make a porn about that, but I can make a porn about these women being empowered and taking control sexually."
But employing the stereotype and subverting it aren't necessarily the same thing. "A woman in hijab dominating a white man in [a pornographic] context still feels like plain old exploitation — still just a woman serving as the object to be consumed in a power fantasy, 100% serving the man's desire and gaze," Mahdia Lynn, a member of the radical leftist Muslim group Radical Muslims, told Mic. 
"The illusion of agency isn't empowerment."