Honest Company Sunscreen and Jessica Alba Under Fire for Burning Customers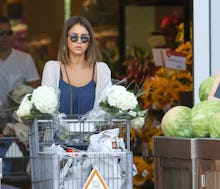 Jessica Alba is getting burned on social media for reportedly, well, burning people. Some customers who purchased the actress' "ultra pure" Honest Company SPF 30 sunscreen, billed as an eco-friendly, nontoxic mineral sunblock, said it doesn't work, and they have the red skin to prove it. 
Alba, 34, co-founded Honest Company, a consumer goods producer whose products reportedly don't contain harsh chemicals, in 2011. The brand sells everything from diapers and prenatal vitamins to dish soap and laundry detergent, all marketed as natural and safe. Last year, the California-based company was valued at over $1 billion. 
Some users of the sunscreen took to Amazon to blast its apparent ineffectiveness. "I bought this brand at Coscto and thought it would be a great brand considering the ingredients," one reviewer wrote. "After putting it on my kids before a beach day, I noticed after a short time they were pink. Put more on and they came home with a sunburn!"
"If I could give zero stars I would," another wrote. "Everyone burned using this product. It's awful."
The problem with the sunscreen boils down to the amount of zinc oxide in its formula, NBC Chicago reported. Zinc oxide is an inorganic compound that physically blocks the sun's damaging rays from reaching a person's skin, either by absorbing the light or deflecting it away from a person's body. 
Typical zinc oxide sunscreens contain between 18% and 25% of the mineral, according to NBC. Health experts consider that an adequate amount for offering protection against sunburn. The Honest Company sunscreen formula, by contrast, contained just 9.3% zinc oxide — a drop, NBC noted, from its previous level of 20%. 
Health experts warned that just because a product claims to be eco-friendly, it's not necessarily a better choice, according to the Today show. Such products are not measured against Food and Drug Administration standards, nor does the federal agency test those products for effectiveness.
"[Eco-friendly] is a very loose term that is not regulated by anyone," Dr. Debra Wattenberg, a New York dermatologist, told Today. "The term organic can mean whatever the company wants it to be and natural can mean whatever the company wants it to be."
In response to complaints about its sunscreen, the Honest Company said it "stand[s] behind the safety and efficacy of [its] product," according to a statement to Today.