These Badass Moms Are Using Social Media to Combat Breastfeeding Stigma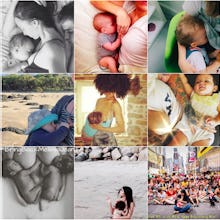 Anyone who has a problem with public breastfeeding may want to sequester themselves for the next few days. From Aug. 1 to Aug. 7, moms who DGAF about the world's breastfeeding hangups will be celebrating World Breastfeeding Week, a global initiative aimed at supporting women "to combine breastfeeding and work." Moms are already posting empowering breastfeeding selfies on Instagram and other social media platforms to commemorate the movement.
The event comes a few weeks after celebrity mom Blake Lively made headlines for posting a gorgeous selfie on Instagram of her breastfeeding her daughter James.
Why this week matters: It's widely known that breastfeeding is enormously beneficial to the health of a newborn child. In fact, the World Health Organization recommends doing it exclusively for the first six months of a baby's life.
Yet there's still an enormous stigma attached to breastfeeding, particularly for mothers who find themselves needing to breastfeed in public spaces. In 2013, for example, a woman was asked to "cover up" by American Airlines staff after she was spotted breastfeeding her child during the flight. In 2012, a Georgia mother breastfeeding her son at Applebee's was asked to relocate to the private restroom. When she refused, the manager called the police.
Most recently, Donald Trump made headlines for coming out against breastfeeding when it was reported that he once called a lawyer "disgusting" for requiring a medical break during a deposition so she could pump breast milk for her daughter.
Stories like these are unfortunately common: Women aren't just stigmatized for breastfeeding IRL: They've also been censored and banned from social media platforms like Instagram and Facebook. Although in the past, Facebook removed women's "brelfies" (breastfeeding selfies) on the grounds that they violated the website's anti-nudity policy, the site lifted its brelfie ban last year. Instagram followed suit back in April, following public outcry and backlash from celebrities like Alyssa Milano. But that hasn't stopped prudish users from flagging such photos as inappropriate, resulting in their removal.
For this reason, it's fitting that World Breastfeeding Week is currently trending on Instagram and Facebook. By raising awareness of the importance of breastfeeding, hopefully women will feel more comfortable doing so in public, despite criticism from naysayers.