Dave Grohl Responds to an Epic Fan-Made Video Asking Foo Fighters to Play in Italy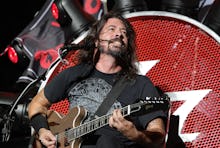 On Thursday, 1,000 Italian fans asked the Foo Fighters to play a show in Cesena, Italy. But they didn't deliver their request via email or signed petition. Instead, they created a video of them singing, strumming and drumming Foo Fighter's "Learn to Fly" in perfect unison. The performance was conducted by famed Italian composer Marco Sabiutook and took months to crowdfund and create.
On Friday, it caught Dave Grohl's attention. The 46-year-old rock god posted his response on the Foo Fighters' Facebook page, praising their work, promising they would visit soon — all in Italian. 
"Hi, Cesena! I am David, hello. I'm sorry, I don't speak Italian. Only a little, a little," Grohl said his a video response, according to a translation posted to YouTube. "This video — it's amazing! Such an amazing thing. Thank you very much. We are coming. I promise. We'll see each other soon."
Amazing. According to the Rockin' 1000, the organization behind the video, the Foo Fighters hadn't performed in Italy since 1997. In the video, Fabio Zaffagnini, who organized the group, describes how much Grohl's response would mean to him and his country.
"Italy is a land where dreams cannot easily come true, but it's a land of passion and creativity," Zaffagnini says. He and the musicians he gathered absolutely proved that. Grohl couldn't deny the beauty in his response.
You're a good man, Dave Grohl. The Foo Fighters frontman is exceptionally visible and responsive to his fans. While this video may prove that on a grander scale, Grohl has a history of responding to requests from those who love his music. In July, Grohl let a fan come on stage to play drums with the band on "Big Me" for his 18th birthday. And in May, he invited an 8-year-old fan on stage to sing along to "Times Like These." 
Thanking these 1000 fans for their dedication with a live show is not an unexpected move for the nicest guy in rock 'n' roll.
You can watch Grohl's message below: 
h/t BuzzFeed