Ahead of Congressional Fight, New Poll Shows Widespread Opposition to Iran Nuclear Deal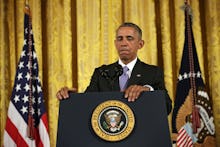 By a 2-to-1 margin, American voters oppose the pending nuclear deal with Iran. 
According to a Quinnipiac poll out Monday morning, 57% disapprove of the agreement. Only 28% support it and just 3-in-10 believe it will bolster U.S. security.
"There's not a lot of love for the proposed nuclear deal with Iran," said Tim Malloy, assistant director of the survey, in a press release. "Only a bare majority of Democrats support the pact." Indeed, 52% of voters from President Barack Obama's own party currently back the deal. On the flip side, 86% of Republicans are opposed.  
Luckily for the White House, there will be no national referendum. The focus is instead on Congress. The Republican-controlled House of Representatives and Senate are expected to pass resolutions, which the president has already promised to veto, against the agreement. Opponents would need two-thirds majorities in both chambers to defeat Obama and kill the deal.
Who to watch: Despite the heated rhetoric from opponents and polls like the one cited here, Congress is highly unlikely to galvanize enough opposition to block the seven-nation accord from going into effect. 
Last week, House Minority Leader Nancy Pelosi (D-Calif.) publicly declared her support, implicitly promising the same from her loyal liberal voting bloc. "This is a diplomatic masterpiece," she said, according to the Hill. On Monday, Rep. Adam Schiff (D-Calif.), the ranking member of the House Intelligence Committee, told the Atlantic he had put his doubts to rest and would back the administration.
The fight in the Senate is shaping up to be considerably tougher. The one senator to watch is New York's high-ranking Democratic Sen. Chuck Schumer. A staunch supporter of Israel, Schumer remains undecided on the Iran deal. His vote will ripple across the caucus that he is expected to lead when current minority leader Nevada Sen. Harry Reid retires next year. Support from Schumer would clear the way for a number of Democrats to follow suit and use his position as political cover when questioned by critics. But a Politico story on Monday suggested he is titling in the other direction. 
"There are expectations all over the lot," an unusually tense-seeming Schumer told Politico. The money, however, is almost entirely on the side of the opposition. The powerful American Israel Public Affairs Committee, a pro-Israel lobbying group, is lining up its estimated 100,000 members against the deal — they are planning to spend $20 million in 35 states, according to CNN — and the recently formed Citizens for a Nuclear Free Iran is already airing ads calling on voters to turn up the heat on wavering officials.
In an effort to blunt their message, Obama will be reaching out on Tuesday to a number of moderate but "prominent Jewish American organizations, White House Press Secretary Josh Earnest said during his daily briefing Monday afternoon.
Meantime, Democratic Sens. Cory Booker (N.J.) and Kirsten Gillibrand (N.Y.) are another pair to watch as the congressional review deadline, currently set for Sept. 17, nears. Fellow New Jersey Democrat Sen. Bob Menendez has been a vocal adversary of the White House on a number of foreign policy issues, coming out early and often against the Iran deal. Booker remains undecided. The same is true for Gillibrand, a protege of former secretary of state and presidential frontrunner Hillary Clinton. The Iran negotiations began while Clinton was at the State Department, and she has a considerable stake in the accord surviving Congress and succeeding. For all the focus on Schumer, Gillibrand too faces a politically fraught decision.
Lobbyist-in-chief: Obama sees the challenge ahead and is expected to be proactive in lobbying Congress right up until the voting begins. He has already showed an uncharacteristic willingness to personally lobby legislators, another indication of how highly he prioritizes passing the deal with robust support from allies in the House and Senate. 
On Wednesday morning, Obama will again make his case during a speech at American University in Washington, D.C. The next day he will sit down with Mic for an interview focusing on the Iran deal. Answering questions on July 15, he challenged detractors to sharpen their own.
"It is incumbent on the critics of this deal to explain how an American president is in a worse position — 12, 13, 14, 15 years from now — if, in fact, at that point Iran says we're going to pull out of the [deal], kick out inspectors and go for a nuclear bomb," he said during a press conference.
"If that happens," Obama continued, his successors "will be in a better position than what happens if Iran, as a consequence of Congress rejecting this deal, decides, 'That's it, we're done negotiating, we're going after a bomb right now.'"