Watch the Teaser for 'Deadpool,' the Movie That Had San Diego Comic-Con Losing Its Mind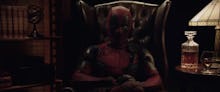 More than any other movie unveiled at this year's San Diego Comic-Con, the one that had fans on-site buzzing and those at home thirsting was Deadpool. It's a pretty impressive turnaround for a movie that's been in development for 15 years and seemed like it might never see the light of day.
Deadpool, the latest in the line of X-Men spinoffs, turned its underdog status into an asset by blowing expectations out of the water at SDCC. How high is anticipation? So high that the studio, 20th Century Fox, just released a trailer for the trailer.
The teaser is cocky, full of itself and bursting with attitude. That's exactly what made the SDCC footage such a hit, according to Vulture: The prickly, hilarious antihero is the antidote to the relative similarity of all other modern superheroes.
Sure, Tony Stark might best be named Tony Snark, and Buffy the Vampire Slayer creator Joss Whedon directing the two Avengers movies ensured each cast member would be quick with a quip. But Deadpool is taking this to a new level. It's breaking down the fourth wall in profane style, calling out the X-Men Origins: Wolverine team for so infamously keeping Deadpool mute in that movie.
This is just a taste, of course — the full trailer hits the Internet tomorrow. In the meantime, watch the teaser below.