Childish Gambino New Album 2015: Here's What We Know About Donald Glover's Next Project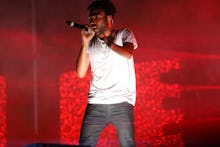 Childish Gambino, the rap identity of actor and comedian Donald Glover, made waves last month at the Wireless Festival in London with a set that was as incredible as it was emotional. Then he dropped a new track at Bonnaroo a few weeks later, something fans took as a sign of good things to come. What we really want to know from the 31-year-old artist is, when can we expect a new album in 2015? 
New music in the works? There's been talk of a follow-up to Gambino's 2013 hit album Because the Internet, a critique of life in the Internet age, since June. That month vocalist Aaron Michael Gutierrez may have first tipped off fans about the artist's next project after tweeting about laying new tracks with Gambino for a possible upcoming album (the tweets were swiftly deleted, Vibe reported that month.)
There's since been no confirmation from the artist of another Gambino album, but fans have taken the not-so-subtle hint to mean there's one on its way, whether that means this year or the next.
Gambino, whom fans remember as Troy Barnes on the then-NBC comedy Community and as a former writer for 30 Rock, has become increasingly known for churning out great music and for his magnetic stage presence. Music critics were generally pleased with Because the Internet, which boasted a 2015 Grammy nomination.
A different sound. Despite the dearth of solid information, there has already been some speculation that the Gambino tracks reportedly in the works would ultimately sound a lot different from the Gambino fans know from Because the Internet. 
In February, the artist told Today he thought the era of Gambino might be ending. "I guess Childish Gambino is a period in my art time," he told Today. "I want to have periods in my life. I feel like Childish Gambino is a period that should come to a close. I like endings."
He later elaborated, telling MTV he hoped fans would never consider Gambino a "phase."
"With my music, if it's not progressing and changing, then I feel like it's dead anyway," he said.