Here's Your 2015 Republican Debate Schedule for This Week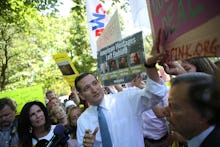 The Republican National Committee is hosting a Voters First Forum for Republican presidential candidates in New Hampshire on Monday night at 7 p.m. to kick off its official debate season. 
The candidates set to appear Monday night at the St. Anselm College in Manchester, New Hampshire, include Jeb Bush, Ted Cruz, Lindsey Graham, Rand Paul, Rick Perry, Chris Christie, John Kasich, Scott Walker, Rick Santorum, George Pataki, Bobby Jindal, Ben Carson, Marco Rubio and Carly Fiorina.
Presidential hopefuls Mike Huckabee and Jim Gilmore will not be at the event, according to the New York Times; Donald Trump, who's leading the polls for the GOP ticket, declined his invitation to attend.
According to the Washington Post, Sens. Ted Cruz (Tex.), Rand Paul (Ky.) and Marco Rubio (Fla.) are attending the event remotely from Washington D.C., where they will be voting on whether to defund Planned Parenthood — a recently Republican-backed movement in government.
The first major event for Republican debates this year, the Voters First Forum will air on national television and stream live via C-SPAN, running a total of two hours, from 7 to 9 p.m. You can watch the live stream Monday night here.
The first National Republican Committee debate will be hosted by Fox News on August 6 at 9 p.m. The debate, which will also last two hours, will air on the Fox News channel and take place at the Quicken Loans arena in Cleveland. 
Moderators Bret Baier, Megyn Kelly and Chris Wallace will present the debate among the top 10 candidates in an average of five national polls. Fox News Executive Vice President Michael Clemente tells Politico participants of the debate "must meet all U.S. Constitutional requirements; must announce and register a formal campaign for president; and must file all necessary paperwork with the Federal Election Commission, including financial disclosure."
The following GOP debate will be on September 16 at the Reagan Library in Simi Valley, California. CNN will host the debate with moderators Jake Tapper and Hugh Hewitt.