Beast Body Workout: Inside Eminem's Newest Fitness Addiction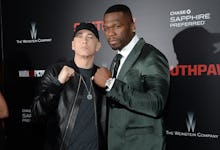 Slim Shady wasn't always so... slim. Rapper Eminem, née Marshall Mathers, opened up about his struggle to lose weight after leaving rehab in 2007, in addition to talking about his past substance abuse and prescription pill addiction, in an interview with Men's Journal for the magazine's September issue. 
In the interview, the 8 Mile rapper also revealed the exercise routines that helped him get his weight under control and shed more than 80 pounds. 
Running miles, boxing and at-home exercise regimens were all part of the "Phenomenal" singer's weight loss plan, but Mathers' latest workout, he said, is Body Beast, a high-intensity weightlifting routine from the same guys behind the popular P90X workout.
"Every morning before I go to the studio, I do the Body Beast workout with free weights, bench and pullup bar at home," the 42-year-old told Men's Journal. "It's just me, so it helps that the Body Beast dude is over-the-top."
The Body Beast workout plan: The 90-day routine comes in three parts, according to the Body Beast workout website. The first two blocks focus on strength and definition of various muscle groups, while the third centers on cardio and abs; the program also comes with a meal plan.
"The routine is pretty intense," Mathers said. "The first time I did the legs, I couldn't walk for two days. Now I'm doing arms one day, chest the next day, legs the next, and I'm still functioning throughout the day. And I can finally do it without pausing the DVD."
Mathers' incredible transformation: Mathers said his unhealthy lifestyle and pill addiction led to excessive weight gain before he was hospitalized in 2007.
"I was close to 230 pounds" at the time of his overdose, Mathers told the magazine. "I'm not sure how I got so big, but I have ideas. The coating on the Vicodin and the Valium I'd been taking for years leaves a hole in your stomach, so to avoid a stomachache, I was constantly eating — and eating badly."
Mathers' days of being overweight are long gone, as photos of the rapper at last month's New York premiere of the movie Southpaw showed.