Colorado Shooter James Holmes Eligible for Death Penalty, Jury Finds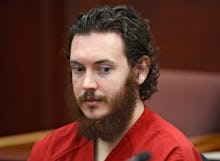 On Monday, jurors in Colorado unanimously voted that James Holmes, the man responsible for the theater shooting in Aurora, Colorado, that left 12 dead, will be eligible for the death penalty. 
Under Colorado law, any case involving the death penalty is determined in three phases. Following Monday's decision, a third phase of sentencing will next determine whether Holmes will be sentenced to death or life in prison without the possibility of parole.
Holmes attacked a movie theater in Aurora, Colorado, on July 30, 2012, killing 12 people and injuring 70 others in the largest number of casualties in a shooting in the United States. When Holmes pled not guilty by reason of insanity, CNN reported the gunman showed no remorse or emotion for his actions.
Due to his plea of insanity, Holmes has never taken accountability for the Colorado massacre that rocked the United States and ignited a national debate on gun control. 
Arapahoe County District Judge Carlos Samour read the jury's decision in court Monday afternoon, telling jurors the trial could last through August before a final sentencing is made.