Millions of People Are Helping You Have Instagram Sex With One Direction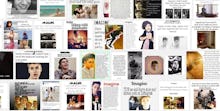 Imagine.
This single word has launched 100,000 fantasies. Fantasies about puppy-dog faces, light petting and a famous boy with shaggy hair calling you "princess." And that boy is almost always a member of One Direction.
Imagines have spread like wildfire, mostly on Instagram, where tags like #imagines, #louisimagines and #1dimagines house millions of posts. They invite One Direction fans to sit back and dream of a life (and bedroom) they happen to share with Harry Styles or Zayn Malik. "Imagine Harry telling your daughter a bedtime story," reads one rather tame Instagram post. "#imagine Harry takes a firm grip of your hair," begins a much more NSFW tweet.
Imagines are the biggest thing in micro-fanfiction. Whereas most fanfic reads like a traditional third-person prose narrative, imagines are like a quick hit of adrenaline that throw you into the driver's seat for a brief moment. Each square Instagram image resembles a single scene. They're like whip-its, but for pseudo-erotic teen fantasies.
Imagines exclusively take on the imperative voice: "y/n" stands for "your name," putting you on the receiving end of these bad boys. Each scene is designed to exhilarate. The shorter scenarios capture a single moment of awe and affection, often dealing with a scenario where Zayn or Harry puts the reader on blast as his one true love during an interview or performance.
Longer imagines are reserved for more epic fantasies of pregnancy, marriage or the initial outbreak of true love. The subtext is consistently erotic, sometimes to an elaborate or taboo extent. 
They sometimes delve into incest.
Imagines were likely born out of Twitter, where they were initially devoted to Justin Bieber as well as One Direction. But back in 2013, they were less discreet in their eroticism:
Now that Instagram is by far the most rapidly growing social network, imagines have hopped out of 140 characters onto screenshots, and they're circulating far faster than they had on Twitter. Right now, the various hashtags that organize these capsulized fantasies have thousands of daily posts. The main hashtag, #imagines, has over 872,000 photos at time of writing.
They're like whip-its, but for pseudo-erotic teen fantasies.
One Direction fandom is a powerful and immense engines of memes, conspiracy theories and fanfiction. The One Direction fandom has produced stars like Anna Todd, the author of After, an enormous fic that's essentially Fifty Shades of Grey set at a college with a moody and abusive Harry Styles as its protagonist. The story has been read over 1 billion times and was picked up by Paramount for a feature film.
The 1D fandom has also terrorized a filmmaker named Keith Calder. Some fans suspect him of being part of an international conspiracy to cover up Louis and Harry's alleged love affair, based simply on his name:
Source: Soundcloud
The stylistic frameworks of imagines have bled over into the world of longform 1D fanfiction. For example, the Wattpad story "I'm Pregnant and He Hit Me (Zayn Malik)" begins with "*Y/N P.O.V.*" asking very directly for the reader to imagine the first-person narrative as his or her inner monologue.
The framework of imagines has now grown past the world of One Direction into the realm of YouTube and Vine stars like Nash Grier and his brother Hayes (below).
They're a potent tool of teenage longing — self-inflicted moments of ecstasy in the pursuit of heartthrobs who, like any sex symbol or teen deity, remain otherwise out of reach.