Delta Airlines Bans Hunting Trophies on Flights Amid Cecil the Lion Controversy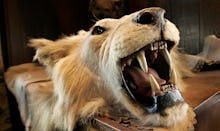 Delta Airlines is sending a message to people who would kill rare African animals and take their body parts home as trophies: These souvenirs won't be welcomed on their flights any longer. 
On Monday, Delta joined a growing list of airlines banning shipments of certain animal trophies in response to widespread outrage an American trophy hunter sparked by killing Zimbabwe's famed lion, Cecil.
"Effective immediately, Delta will officially ban shipment of all lion, leopard, elephant, rhinoceros and buffalo trophies worldwide as freight," airline officials said in a statement Monday. 
"Prior to this ban, Delta's strict acceptance policy called for absolute compliance with all government regulations regarding protected species," the company said. "Delta will also review acceptance policies of other hunting trophies with appropriate government agencies and other organizations supporting legal shipments."
Banning big game trophy shipments certainly won't eliminate safari hunting altogether (real change will happen at the federal level, according to the New York Times), but would at least make it harder for trophy hunters to have their prizes shipped home. Tourist hunters kill an estimated 105,000 African animals a year, according to CNN Money. 
The hunt heard around the world: The killing of Cecil, a 13-year-old African male lion living in Zimbabwe's Hwange National Park who was also the subject of an Oxford University research project, drew the ire of conservation activists all over the world. 
The spotlight quickly fell on American dentist Walter Palmer, the Minnesota man who paid over $50,000 to hunt the lion. Palmer was a frequent hunter with numerous safaris under his belt. He shot and killed Cecil with a bow and arrow before decapitating and skinning the animal. 
Police in Zimbabwe retrieved the lion's decapitated head from the home of famed Zimbabwean hunter Theo Bronkhorst, who organized the hunt, before it could be sent to Minnesota, according to the Huffington Post. Bronkhorst founded Bushman Safaris, a "family-run business ... offering top quality hunts," in 1992, according to the company's Facebook page. 
Airlines take a stand. Air France, KLM, Iberia, Qantas, IAG Cargo and Singapore Airlines were among the carriers that moved to ban trophy shipments on their flights last week amid growing scrutiny over sport hunting, according to the petition site SumofUs, which has advocated for airlines to change their cargo policies.
"Airlines and other large travel corporations would be foolish to ignore the public reaction to the killing of Cecil the lion, and growing concern about the plight of endangered species," SumOfUs campaign director Paul Ferris told the New York Times.
Delta was the only American airline with direct flights between the U.S. and the African continent, the New York Times reported.