Republicans Just Failed to Defund Planned Parenthood — But They're Not Giving Up Yet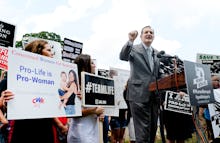 Senate Republicans on Monday failed to advance a bill that would cut off federal funding to Planned Parenthood. 
Democratic Sens. Joe Donnelly (Ind.) and Joe Manchin (W.Va.) joined 51 Republicans in voting for the legislation, which Mark Kirk (R-Ill.) and Majority Leader Mitch McConnell (Ky.) voted against, the latter for procedural purposes. The measure needed 60 votes to go forward
This latest offensive against Planned Parenthood was sparked by the release of four videos, recorded in secret and selectively edited by anti-abortion activists, revealing officials from the group discussing plans to provide fetal tissue to biomedical researchers.
"Not only was this bill cruel, it was nonsensical," Cecile Richards, president of Planned Parenthood, said in a statement emailed to reporters after Monday's vote. "We know what happens when the out-of-touch extremists in Congress try to push their anti-woman agenda above everything else — the American people reject them."
Planned Parenthood is the recipient of more than $500 million annually in state and federal aid. In addition to its abortion services, the group is also among the country's largest source of family planning and health services to women, especially in traditionally underserved communities. 
On the Senate floor Monday afternoon, supporters including Sen. Elizabeth Warren (D-Mass.) spoke out passionately in defense of Planned Parenthood, calling the GOP bill "an all-out effort to build support to take away a woman's right to control her own body." 
The three Republican presidential candidates in the Senate, Rand Paul (Ky.), Ted Cruz (Texas) and Marco Rubio (Fla.), all launched social media campaigns to tout their support for the legislation, which despite being stalled in the upper chamber could take another form this fall, when Congress votes to fund the federal government.
"Please know that we cannot and will not support any funding resolution — an appropriations bill, an omnibus package, a continuing resolution or otherwise — that contains any funding for Planned Parenthood, including mandatory funding streams," Rep. Mick Mulvaney (R-S.C.) wrote in a letter, signed by 17 colleagues, to House Republican leaders on Wednesday.
Senate Majority Leader Mitch McConnell (Ky.) has ruled out any potential shutdown brinksmanship, but House Speaker John Boehner (Ohio) is already under pressure from conservative members of his fractious caucus. 
"I've seen these two videos," Boehner said Thursday, according to Politico, refusing to commit to any specific action going forward. "They're gruesome and I think they're awful. That's why the Energy and Commerce Committee and Judiciary Committee are doing an investigation. I expect that we will have hearings, and the more we learn, the more it will educate our decisions in the future."