Mar-a-Lago Club, a Donald Trump Company, Has Been Trying to Import Foreign Workers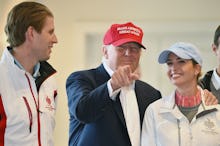 Donald Trump's Mar-a-Lago Club in Palm Beach, Florida, a sprawling luxury resort that's among the most exclusive of its kind in the country, has tried to recruit hundreds of foreign workers through a temporary work visa program since 2006, despite the Republican presidential front-runner having frequently accused immigrants of taking jobs away from Americans. Turns out, Trump's companies could be the ones giving those jobs away in the first place. 
The revelation was part of a recent Reuters investigation into U.S. Department of Labor data that found Trump-owned companies had tried to recruit at least 1,100 foreign workers over the past 15 years. Mar-a-Lago was the biggest seeker of foreign workers out of the bunch, which included eight other Trump-owned companies. 
Of the 787 applications the Mar-a-Lago Club submitted since 2006, there were 70 applications submitted this month, for maids, cooks and servers, Reuters reported. It's unclear whether the workers would be from Mexico, however the investigation found at least 80% of the more than 100,000 foreign workers who were granted temporary work visas to the United States in 2013 were of Mexican origin. 
The practice of hiring foreign workers for low-wage jobs is not uncommon in hospitality and landscaping industries. The United States' H-2B visa program allows employers to temporarily hire foreigners to perform non-agricultural labor or services.
Trump, who has run on a platform of shoring up the U.S. border with Mexico, has frequently said he'll bring jobs back to Americans. "A lot of people ... can't get jobs," Trump said during his campaign announcement in New York in June. "They can't get jobs, because there are no jobs, because China has our jobs and Mexico has our jobs. They all have jobs."