Here Are Your 10 Candidates at Thursday Night's 2016 Presidential Debates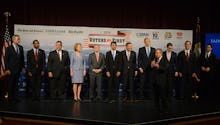 The first Republican presidential debate is Thursday, and Fox News has selected the top 10 candidates to take the podiums in Cleveland from an average of the five most recent national polls. They are real estate magnate Donald Trump, former Florida Gov. Jeb Bush, Wisconsin Gov. Scott Walker, Florida Sen. Marco Rubio, Kentucky Sen. Rand Paul, Texas Sen. Ted Cruz, former Arkansas Gov. Mike Huckabee, neurosurgeon Dr. Ben Carson, New Jersey Gov. Chris Christie and Ohio Gov. John Kasich.
ABC conducted an analysis of five recent major national polls on Aug. 2 and determined the top eight highest polling candidates set to take the stage Thursday night. They are Trump, Bush, Walker, Rubio, Paul, Cruz, Huckabee and Carson.
Christie and Kasich were vying for the final two spots, kicking former Texas Gov. Rick Perry out of the debate by a small margin after Perry failed to keep up with the new additions to the Republican race for the nomination.
Although the bottom seven candidates won't have the major primetime airwaves the debate affords the top-polling Republicans (airing on Fox News Thursday night at 9 p.m.), Fox will also host an earlier live debate at 5 p.m. to allow those candidates a chance to speak on the issues.
CNN reports Donald Trump, who is polling higher than any other candidate for the nominee, will likely take center stage Thursday night, as he is currently the top contender for the ticket. According to CNN, Trump, Bush and Walker have both gained double-digit support in the latest polls.
Although the debates have yet to kick off, CBS reports the majority of Republican primary voters are already highly in favor of Trump, Bush, Rubio and Walker when it comes to immigration, international conflict and the economy.