Drake Just Destroyed Meek Mill With Memes During His OVO Festival Headlining Set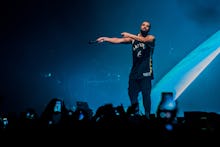 Never start a fight with a man who throws his own music festival. 
Headlining his OVO fest on Monday night, Drake put dozens of nails in the coffin of his one-time rival Meek Mill. While performing his Meek Mill diss tracks "Charged Up" and "Back to Back," Drake projected a Powerpoint presentation of Twitter's most venomous memes describing the beef between the two rappers. It was yet one more insult added to the heaps of injury Drake has already dealt to Meek Mill. This is why you don't mess with the 6 God. 
That Windows '95 burn. Drake selected his memes from the hundreds that Twitter has offered all week to illustrate the beef Meek Mill started. He chose one accusing Meek Mill of using Iggy Azalea as a ghostwriter, and another offering a participation award to Meek Mill for his efforts in their feud.
The whole beef started over a ghostwriting accusation, when Meek Mill called out Drake for using a ghostwriter, Quentin Miller, to help Drake write his guest verse on Meek Mill's "R.I.C.O." The hip-hop community immediately took sides. Drake was the first to drop a diss record, starting with "Charged Up" on July 25, before releasing his far more personal "Back to Back" later that week. 
The latter included brutal digs at Meek Mill, such as "Is that a world tour, or your girl's tour?" referring to Nicki Minaj's Pinkprint tour Meek Mill is currently opening for. When Meek Mill finally got around to releasing his own diss track on July 30, it didn't stack up. Heavy-hitters such as Ice Cube and Cassidy have both declared Drake the winner. The memes and the "Free Meek Mill" t-shirt Drake reportedly rocked during his rehearsal are just victory laps.
And apparently Drake has more in the bag. Toronto's own teased the possibility of a third diss track, "3peat," while on stage. Drake's victory already seems well-assured, but perhaps he just wants to make sure that Meek Mill learns his lesson beyond a shadow of a doubt. 
Don't mess with Drake. He'll turn you into a memefied laughingstock.