Beijing's Winter Olympics 2022 Theme Sounds Dangerously Close to "Let It Go" From 'Frozen'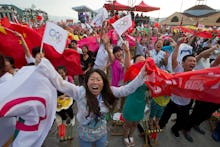 Little besides controversy has followed the International Olympic Committee's selection of Beijing as the site of the 2022 Winter Olympics on Friday. Human rights activists oppose awarding the city, which has history peppered with civil rights abuses. Environmentalists point to the city's poor environmental record as evidence for a poor decision. Now, Frozen fans have taken issue as well. 
They are concerned with the games' theme song, released in late May, sounds dangerously close to "Let It Go" from Disney's Frozen. And fans are letting the world know through social media, starting in the comments section of the video itself.
"Let it fake, let it fake. The copyright never bothered me anyway........." one user wrote in the video's YouTube comments. "Let's face it, they're going to need Elsa if they are planning on holding the Winter games in Beijing :)" another commenter wrote.
The songs do have similar tempo and melody. Chinese business publication Caijing Online pointed out that both songs "employ piano as a major instrument, have similar prelude chords and an eight-beat introduction," according to the New York Times. Listen for yourself.
Spokespeople from the games have yet to respond to a request for a comment on the accusations. And neither has Disney, though several commenters on YouTube and Twitter have encouraged the company to sue. Doing so would be difficult to pursue. The United States and China have had numerous disagreements over copyright law and intellectual property violations in the past, as China is far more lax about enforcing copyright regulations. We'll have to see if the claims amount to anything more serious, or if the concerned parties will just decide to... let it go.