This Badass Great-Great-Grandma's Secret to a Long Life Is Ice-Cold Miller High Life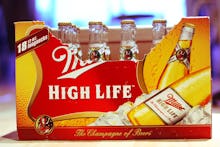 For 110-year-old Agnes Fenton, it's nothing but the high life, or, technically, High Life.
The Englewood, New Jersey, resident and supercentenarian recently celebrated her milestone birthday surrounded by a small group of friends, while likely enjoying her secret to an eternal life: beer and shots.
Fenton has drank three Miller High Life and a shot of whiskey (she'll take a Johnny Walker Blue Label, neat) just about every day for the past 70 years, after a doctor gave her a clean bill of health and advised her to consume the daily dosage of alcohol, NorthJersey.com reports.
After going to the doctor's office for a benign tumor, Fenton reportedly told ABC, "He said, 'Agnes, you must drink three Miller High Lifes a day.'"
And now, although the quick-witted woman born Aug. 1, 1905, can no longer drink her normal order at happy hour due to a smaller-portioned diet (NorthJersey.com says her favorites are chicken wings, green beans and sweet potatoes), Fenton has been enjoying a new vice: fame. 
NorthJersey.com reports Fenton has received birthday greetings from President Barack Obama and New Jersey Gov. Chris Christie. Her hometown of Englewood even celebrated her birthday with "Agnes Fenton Day," a community holiday first started 10 years ago. And of course, her life's story is being shared across the Internet.
Fenton's doctor for 20 years, Dr. Kenneth Wasserman, says her heath and longevity are absolutely remarkable. "The few things she's had wrong with her have disappeared in ways they should not have. Her health has been phenomenal," Wasserman told NorthJersey.com. "She's completely, thoroughly amazing."
There are just about 316,600 people over 100 living around the world, according to a 2012 United Nations estimate. By the year 2050, the BBC reports, that number will surpass three million: but, for now, we only have a few legends like Fenton to share their secrets to long, happy lives.
According to Miller Coors, a single 12-ounce serving of Miller High Life contains 4.6% alcohol by volume, 143 calories, 13.1 grams of carbohydrates, 1 gram of protein, 7 milligrams of sodium and 0 grams of fat.