This Is Why Fashion Needs to Pay Attention to Ronda Rousey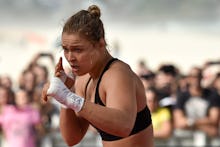 Mixed martial arts fighter Ronda Rousey has been under the media spotlight from her record-breaking fight win over Brazil's Bethe Correia this past weekend (in just 34 seconds!) to her ass-kicking parts in Entourage and Furious Seven, in which she fought Michelle Rodriguez in an elaborate sequence — while wearing an evening gown and heels.
This is what badass Ronda Rousey looks like:
As a real-life sports hero with athletic skills, strength and self-confidence, Rousey is a female sports star in the good company of tennis megastar Serena Williams and World Cup champion Abby Wambach, to name a few.
It would make sense for fashion brands to have a have a spokeswoman like Rousey, who celebrates her strong, athletic body. It's a message that would undoubtedly resonate with shoppers, given fashion's rising obsession with athletic clothes and the increasingly prevalent narratives surrounding body positivity and female empowerment.
The reality though, is athletic models often look like this: 
Fashion needs to celebrate real female athletes: That's the point fashion critic Vanessa Friedman makes at the New York Times on Tuesday, noting that the fashion industry has long overlooked women like Rousey. "Athletes have body types that don't lend themselves to the coat-hanger look that designers favor," Friedman writes. 
That's pretty ironic, however, given the kind of clothing designers are favoring these days.
Athletic clothes, specifically "athleisure" styles (clothes to wear from the gym and then out to dinner), have never been more popular. The trend for activewear is causing a boom in the U.S. apparel business, making the yoga pants business bigger than yoga itself, driving Nike's profits skyward and inspiring high-end designers to get into the sports gear game.
Yet, those stylish athletic clothes are almost always modeled by women with "the coat-hanger look." Just glance at Net-A-Porter's Sports section or Barneys Activewear Collection, and you'll see very few bodies that look like Rousey's or Williams'. 
There's a disconnect for women shoppers: Fashion's preference for thin over strong, of course, reflects a broader societal stereotype about women's bodies. Both Rousey and Williams have faced critics who've deemed their bodies "unfeminine," their muscles and strength seemingly inconsistent with the ideal woman's figure. 
Rousey recently joined that conversation herself, in an interview for UFC's Embedded series, saying, "I think it's hilarious if people say that my body looks masculine, or something like that. ... I think it's femininely bad-ass as fuck because there's not a single muscle on my body that isn't for a purpose."
Rousey's body, along with those of other female athletes, are indeed feminine bodies. In fact, they're what many female bodies look like at their athletic prime — which is why fashion should embrace them, for selling both "athleisure" clothing and regular clothes. (Yes, Rousey sometimes wears dresses — shocking.)
"It would also do something for the industry's image to work with women who value strength and health over skinniness and youth; to demonstrate that their clothes make everyone look good, regardless of biceps size," Friedman notes in the New York Times. 
Rousey has already proven that she's a kickass mixed-martial arts fighter. Seeing her in ad campaigns that show off her strong physique would allow her send a different kind of powerful message: that for women, just like men, strong is indeed beautiful.