Chris Pratt Painted a Greek Restaurant's Mural When He Was a Teen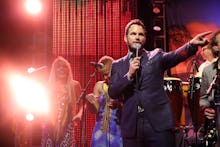 For most, being a teen means dumb decisions made between studying for the SAT and panicking about finding a date. For Chris Pratt, it meant painting a mural in a Greek restaurant.
In 2003, shortly before he'd become a teen heartthrob on the WB's Everwood, Pratt appeared in an article in an issue of Teen People. As found by Imgur user slartibartfas, the interview focuses on his work as a teen painter. 
"I guess you could say painting is in my genes," he told Teen People at the time, while his acting genes lay dormant, waiting for their time to rise.
Later in the interview, he references murals he's painted in his home state of Washington: one in the Lake Stevens High School wrestling room, one in his friend's restaurant. That restaurant, Digg noted, was Omega Pizza and Pasta — and indeed, it features a mural painted by one young Andy Dwyer. They even have the Teen People piece hanging with the mural.
The Imgur post also says that apparently, Pratt was a dishwasher at the restaurant. He and the owners' son were close friends in school.
Though it appears Pratt has discarded his painting dreams in the years since, that may be for the best. We love him as an actor, plus his confession in the interview that he painted girls he would "secretly long for" might have taken him down a bad road. His wife Anna Faris might have freaked out at finding portraits of her lying around the house.