Three Reasons Joe Biden Should Definitely Run for President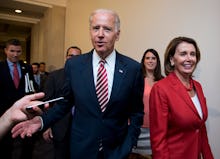 The trial balloon went up on Sunday morning, when New York Times columnist and noted Clinton family antagonist Maureen Dowd reported that Vice President Joe Biden is "talking to friends, family and donors about jumping in" the 2016 presidential race.
Three days later, that balloon is looking more like a hydrogen-powered blimp. To start, a senior aide to Biden's late son, Beau, has joined the push as an adviser to the Draft Biden Super PAC, a group dedicated to luring the vice president into the primary. His name is Josh Alcorn, and he has a talent for corralling campaign cash. If Biden were to join the fray at this late hour, stocking a feasible war chest would be his most immediate priority. Between April 12, when she entered the race, and June 30, Hillary Clinton raised $45 million. She began running ads in Iowa and New Hampshire on Tuesday, according to the Wall Street Journal.
The darkest clouds, however, are not on the horizon. They are here, right now. The vice president is a grandfather many times over, and with Beau's passing in May he has kept his public schedule relatively sparse. On Tuesday, for instance, Biden will take one meeting with a visiting dignitary, according to his White House schedule. A day before and over the past weekend, he was in Wilmington, Delaware, absent from any political events.
Still, the speculation continues apace. Because Biden could silence it with a word, there is real reason to believe he is seriously weighing his options. At 72 years old, this is it — there is no next turn. In her column, Dowd relates a deeply personal anecdote that suggests there could be more in play than a simple electoral calculation. 
Toward the end of Beau's life, Down writes, he "was losing his nouns, and the right side of his face was partially paralyzed. But he had a mission: He tried to make his father promise to run, arguing that the White House should not revert to the Clintons and that the country would be better off with Biden values."
The narrative here, especially for a political press thirsty for more drama in the Democratic primary, is irresistible. But how would a Biden run really go? Here are three reasons the vice president might as well take a shot: 
Even with the people likely to vote for her, Hillary Clinton is not very popular.
According to an NBC News/Wall Street Journal poll released Monday, only 37% of voters enjoy a positive view of Clinton, even as 59% say they plan to vote for her in a Biden-free primary.
Though the vice president is hardly a newcomer to the national stage — he has run for president twice, in 1988 and 2008, and served in the Senate for 36 years before being sworn in alongside President Barack Obama in 2009 — he is not quite the cultural icon that Clinton is. That means more room to maneuver politically and something closer to a "fresh start" with voters who don't pay close attention to the daily grind.  
Even then, Biden has a reliable base of national support. In their round-up of major national polling, RealClearPolitics finds the vice president with nearly 14% backing among Democrats, despite his absence from the campaign trail. According to a recent Quinnipiac poll surveying all voters, Biden has a 49% approval rating to Clinton's 40%. Fifty-one percent disapprove of Clinton; only 39% have a negative view of the vice president. 
For liberals who might currently favor Sen. Bernie Sanders (I-Vt.) but worry about his ability to take on a Republican in the general election, Biden provides a tested alternative to Clinton — not exactly a "progressive alternative" in the mold of Sen. Elizabeth Warren (D-Mass.), but someone who has twice been elected to within that proverbial heartbeat of the presidency.
He has an advantage with liberals on foreign policy.
Republicans are on the record with their reviews of Clinton's time running the State Department. Hint: they don't think she did a great job. Donald Trump, for instance, told NBC News, "there has never been a secretary of state so bad as Hillary. The world blew up around us. We lost everything!" Hysterical flourishes aside, Trump, the Republican primary frontrunner for a reason, touches a nerve here.
Clinton was the top U.S. diplomat during a time of historic unrest and fracture in the Middle East and Afghanistan. Even putting the ruthlessly demagogued Benghazi tragedy aside, Clinton's support for the U.S. intervention in Libya, which successfully deposed dictator Moammar Gadhafi but created a riotous, violent power vacuum currently being filled by a number of extremist groups, could become a liability in a primary contest.
Then there is the U.S. troop "surge" in Afghanistan, the foreign policy point on which Clinton and Biden diverged most famously. Upon arriving in office in 2009, Biden immediately registered his opposition to any plan that would deliver more troops into the cauldron. But Clinton and Secretary of Defense Robert Gates successfully lobbied Obama and, in 2009, he announced that 33,000 more Americans were headed to Afghanistan. Two years later, they were withdrawn on schedule but amid worsening Taliban violence and a series of deadly attacks on U.S. soldiers by Afghan trainees.
Clinton is not without her successes. She backed Obama's successful 2011 raid on Osama Bin Laden's compound in Pakistan while Biden, according to Situation Room scuttlebutt, counseled the president to take more cautious steps. But in a Democratic Party wary of Clinton's hawkish streak, the raid's value is diminished. 
On the question of the Iraq War and the vote that did so much to sink Clinton in 2008, Biden cannot pursue the same path as Obama, whose opposition to the invasion set the tone for his campaign. But in the aftermath, Biden has shown a more nuanced understanding of the regional dynamics. His 2006 op-ed in the New York Times, largely ridiculed at the time, called for Iraq to be split among the Sunnis, Shiites and Kurds in the form of three "autonomous regions." 
Fast forward nearly a decade and the Iraqis have, in effect, done that themselves. Civil war has cleaved the country into three parts: a de facto Kurdish state in the north; a Sunni Islamic State group-held western region; and the withering Shiite stronghold in Baghdad.
If he can win the Democratic primary, Biden matches up well with Republicans.
A recent poll from Quinnipiac shows Biden performing almost identically to Clinton when pitted against the GOP presidential frontrunners. In a potential matchup with former Florida Gov. Jeb Bush, Biden prevails, 43% to 42%. Clinton loses that contest by a point, 42% to 41%. Voters were similarly divided when asked to choose between the Democrats and Wisconsin Gov. Scott Walker.
While those numbers are all well within the poll's margin of error, the message is clear: Biden is already primed to be a formidable candidate in the general election, and that's without the benefit of having made a single campaign stop, speech or commercial spot. Clinton, on the other hand, has been a declared candidate for more than three months and an undeclared contender for much longer than that.
Hurdles ahead: The Joe-mentum is gathering, no doubt, but the vice president would not enter this race without considerable political baggage. A sympathetic figure today, in the aftermath of his son's untimely death, he would inevitably be subject to the same brand of often merciless scrutiny now being directed at the vast field of even semi-legitimate White House hopefuls.
On Monday morning, Politico published a long piece about the young then-Senator Biden's decision to effectively bail on his pro-busing colleagues when the issue roiled the upper chamber in the mid-1970s. Whether Biden was being pragmatic — many Northerners, including his constituents in Delaware, were vehemently opposed to enforced integration programs — or simply unwilling to take on a righteous fight is hard to say. 
Whether he'll be asked about it is not.