OVO Festival 2015: Reviews, Videos, Best Performances and More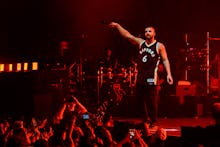 The 2015 OVO Festival in Toronto wrapped up Monday night with special guest performances by Kanye, Pharrell Williams and Future, and a closing set by the festival's almighty host, Drake, whose ongoing feud with hip-hop artist Meek Mill has created not only some awesome social media diatribes, but also some really good music. 
The war of words between the two artists was far from over Monday. Drake, a native Torontonian, pulled no punches during his performance, opening his set with "Charged Up" and "Back to Back," two tracks dissing his rival Philadelphia rapper.
Then, Drake took it up a notch, blasting Meek Mill with a Powerpoint presentation that flashed various memes describing the bad blood between them, including one tweet accusing Meek Mill of getting his lyrics from Iggy Azalea.
Spiteful musical tirades aside, the closing night of OVO Fest included crowd-pleasing performances by the biggest players in hip-hop today. Highlights from the night included a performance of "Blessings" by Kanye and Drake, Direct Lyrics reported. 
Atlanta rapper Future, who recently released the 18-track album Dirty Sprite 2 on iTunes to rave reviews, got a huge shout out from Drake. "If there's anybody that got the world on fire it's you, my nigga," Drake said of the rapper. "Make some noise for super Future."
Kanye performed a series of snippets from his most popular tracks, including "All Day," "Stronger" and "Black Skinhead," the Toronto Sun reported. 
Pharrell Williams treated the crowd to some new tracks but also some old favorites, including "Happy" and "Like I Love You."
Williams then took a moment to get serious with the crowd about the topic of freedom. "We're having a tough time in America," Williams said, according to Billboard. "Tonight, I wanna talk to you all about this word called 'freedom.' There is such a divide out there in the world right now, I feel like no matter who you are and where you come from, you deserve your freedom. It's crazy to be talking about this in 2015."
One of the bigger moments of the festival was a performance by Canadian rapper PartyNextDoor, who brought "his voracious catalogue of R&B tracks dripping with sexual undertones and under the cover insinuations," the Toronto Sun reported. His set included his hits "Slow It Down," "Wus Good/Curious" and "Sex on the Beach."
"What the young artist lacked in stage presence, he all but made up for with crowd control, keeping the audience engaged every step of the way," according to the Toronto Sun. 
The New York Times described the festival's major performers (Drake, Kanye and Williams) as a "genuine alternative history of hip-hop's development, one that favors non-macho creative eccentrics and bypasses the typical binaries: gangster vs. conscious, mainstream vs. underground." The artists have paved the way for rappers like Future and J. Cole, who closed the festival's second night. 
Drake ended the evening with his hit "Legend," but not before thanking the city for its support. "I love you Toronto. I will love you forever," Drake said, according to the Toronto Sun.