India Just Banned 857 Porn Websites, Sparking a Massive Censorship Debate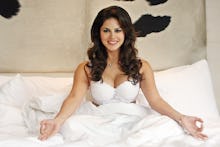 The government of India issued an order banning hundreds of porn sites on Monday, directing service providers to block 857 separate adult websites that Department of Telecommunications spokesman N.N. Kaul told Reuters were considered a "social nuisance."
A 17-page government order obtained by India's Center for Internet & Society listed sites like XHamster, Brazzers and YouPorn, as well as popular Indian sites as part of a block list meant to preserve "morality" and "decency." Some of the sites listed do not actually have any pornographic content, like CollegeHumor and Barstool Sports.
However, by Tuesday, the Times of India reported the government was already backpedaling on the porn ban, insisting that filters would only screen out those sites showing child pornography. Government sources told the paper the ban was "temporary, insisting that it was a prelude to the creation of a regular regulatory oversight."
"A new notification will be issued shortly. The ban will be partially withdrawn. Sites that do not promote child porn will be unbanned," Information and Technology Minister Ravi Shankar Prasad told India Today TV, according to USA Today.
The ban comes amid a period of growing Internet censorship in India. In early 2014 alone, Facebook in India blocked as many as 5,000 "pieces of content," according to CNN Money. Later that year, the country blocked websites GitHub, Vimeo, the Internet Archive, Pastebin and Daily Motion for hosting Islamic State group-related content.
Regarding the porn band specifically, DNA India's Nirmalya Dutta argues that any such ban would be completely futile, given the sheer number of pornographic websites that Indian web users can connect to. According to Pornhub data, Indian consumers are among the most active international porn consumers and rank fifth among visitors by country to the site, racking up an impressive 8.22 minutes per visit.
The porn ban did not sit well with Chetan Bhagat, one of India's best-selling novelists, who pointed out on Twitter that the government should be focusing its efforts combating misogyny and rape rather than what adults choose to do in their personal time.
"Watching porn itself puts the country's security in danger, encourages violent acts, unacceptable behaviour in society, exploitation of children and lowers the dignity of women," lawyer Kamlesh Vaswani, whose efforts are suspected to have led to the ban, wrote in a petition to the Supreme Court in 2013.
"My fight has been against obscenity," he added. "I feel watching porn fuels violence against women. It propels men to commit sex crimes. I saw no women come forward and speak up against pornography, so I did it."
h/t Times of India