"3Peat" Lyrics: Here's the Song Drake Debuted at the 2015 OVO Festival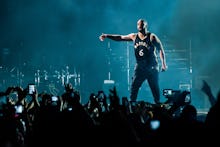 Drake may have dropped part of his new track (and brand new diss against Philadelphia rapper Meek Mill) "3Peat" on the closing night of his annual OVO Festival in Toronto on Monday. The lyrics, while not confirmed, took aim at Meek Mill and alluded to the ongoing social media feud that's played out between the two artists. 
"Dealing with these niggas man it take a lot," Drake sang, according to This Is 50. "Been saying fuck a chaser when we taking shots / Look man, I said you don't want that threepeat / Got you acting like a bitch cause you ain't get the retweet."
The Canadian hip-hop artist and host of OVO Fest continued to take shots at his rival Meek Mill Monday. The 28-year-old rapper opened his set with "Charged Up" and "Back to Back," which put Meek Mill on blast, including calling him out for being less successful than his girlfriend, fellow rapper Nicki Minaj. He also played a PowerPoint presentation that included Internet memes which poked fun at the beef between the two artists. 
Prior to Drake's Monday night performance, it was rumored that the artist would debut "3Peat," the final blow in his series of punches aimed at Meek Mill, during the festival. The full "3Peat" track hasn't been released, but fans expect it's coming soon. 
The ongoing rivalry reached its fever pitch in July, when Meek Mill took to Twitter to accuse Drake of employing ghostwriters. 
The Toronto rapper fired back with his track "Charged Up," saying Meek Mill was just another "so-and-so that no one knows." He also referred to his acknowledging Meek Mill's Twitter accusations as "charity work." 
Drake followed up with "Back to Back," which blasts Meek Mill for having a less fruitful rap career than Minaj: "I'm not the type of nigga that'll type to niggas / And shout-out to all my boss bitches wife-in niggas / Make sure you hit him with the prenup."